US Open 2023: Coco Gauff stages remarkable comeback to win the women's singles title
American teenage sensation Coco Gauff clinched her first-ever Grand Slam title at the US Open 2023 by staging a remarkable comeback against Belarusian powerhouse Aryna Sabalenka. Gauff's victory in a thrilling final at the iconic Arthur Ashe Stadium is destined to become a legendary moment in tennis history, marking a significant milestone in her career.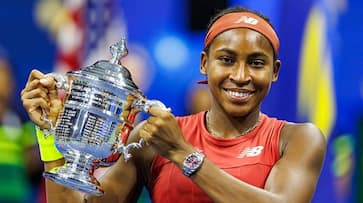 Coco Gauff staged a remarkable comeback to secure her first-ever Grand Slam title at the US Open in 2023, defeating Aryna Sabalenka in a hard-fought match. The 19-year-old American displayed tremendous determination on the Arthur Ashe Stadium court, overcoming a 2-6, 6-3, 6-2 deficit in 2 hours and 6 minutes to achieve this fairy tale-like transformation in her season's performance. Gauff, seeded sixth and hailing from Florida, had entered the final as the underdog against the powerful second-seed Sabalenka from Belarus. Despite both players making numerous errors in the error-filled final, watched by a record crowd of 28,143, Gauff maintained her composure when it counted most, securing a well-deserved victory.
This win marked a spectacular turnaround for Gauff, who had experienced a devastating first-round exit at Wimbledon in July. However, she bounced back by claiming titles in Washington and Cincinnati, ultimately achieving the pinnacle of her career with this victory at the US Open.
In her post-match elation, Gauff expressed the significance of this win, especially in light of her heartbreaking loss at the French Open the previous year. She also used the opportunity to playfully thank those who had doubted her abilities, emphasizing that their skepticism had only fueled her determination.
The match began with Sabalenka breaking Gauff's serve in the opening game and subsequently establishing a 2-0 lead. Gauff managed to break back at 2-2, but the momentum swung again as Sabalenka broke to go ahead 3-2. Sabalenka's serve struggled once more, allowing Gauff to secure two break points in the sixth game. Despite a powerful ace that brought it to deuce, Sabalenka eventually took a 4-2 lead with a decisive smash and clinched the set in the next game.
However, Gauff regrouped in the second set, reducing her unforced errors and improving her serve. Sabalenka began to show signs of nervousness, double-faulting to concede a break and a 3-1 lead to Gauff. Gauff held on, fending off a break point, to reach 4-1 and maintained her composure to level the match when Sabalenka made an error on a forehand.
In the final set, Gauff continued to dominate, securing a crucial break in the opening game. She extended her lead to 3-0 as Sabalenka struggled to regain her composure, making several unforced errors. Although Sabalenka managed to hold serve in the fifth game and took a medical timeout for treatment on her left thigh, Gauff maintained her momentum. Despite Sabalenka breaking Gauff to reduce the lead to 4-2, Gauff capitalized on a Sabalenka double-fault to break once more and secure a 5-2 lead. Gauff then cruised to victory in the following game, holding to love with a backhand winner.
Also Read: US Open 2023: From popping pain killers to reaching final - Rohan Bopanna's remarkable journey
Last Updated Sep 10, 2023, 9:48 AM IST