US Open 2023: From popping pain killers to reaching final - Rohan Bopanna's remarkable journey
Rohan Bopanna, India's tennis ace, as he defies the odds and battles knee cartilage issues to reach the US Open 2023 final.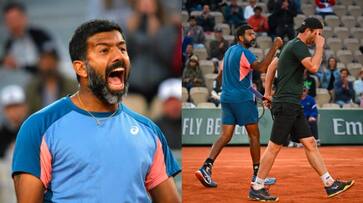 Rohan Bopanna, India's doubles maestro, reached the US Open final alongside his partner Matthew Ebden, marking his achievement as the oldest Grand Slam doubles finalist in the Open Era. Bopanna and Ebden's exceptional performance at Flushing Meadows, in front of an appreciative Louis Armstrong crowd, saw them defeat Pierre-Hugues Herbert and Nicolas Mahut in the semifinals, setting up a showdown with Rajeev Ram and Joe Salisbury in the championship match. However, Bopanna's journey to this remarkable moment was not without its doubts and challenges.
In April 2021, amidst a string of disappointing losses, Bopanna found himself questioning his tennis career and pondering why he was still competing. A particular defeat in Estoril, where he partnered with Alexander Bublik, marked his seventh consecutive loss at the start of the season, with just a single set victory to his name.
Sitting by the ocean, contemplating his future, Bopanna recalls the moment he asked himself, "What am I even doing? I'm not even winning matches, I have a family at home. Should I just call it a day and return?" At that time, his daughter was four years old, making the prospect of retirement seem more appealing.
Nevertheless, Bopanna chose to persevere, and the result has been a resurgence in his tennis career. He is currently showcasing some of the finest tennis of his life, standing on the cusp of a US Open title alongside Matthew Ebden.
Bopanna's tennis journey has been marked by numerous accomplishments, including winning five ATP Masters 1000 titles with five different partners. However, he has yet to secure a major championship in men's doubles. What makes this achievement even more impressive is the condition of his knees, which have deteriorated significantly.
Also Read: US Open 2023: Aryna Sabalenka's remarkable comeback secures spot in Women's singles final
His knees, devoid of cartilage, had him relying on two to three painkillers daily in 2019. Fortunately, in 2020, Bopanna discovered the benefits of Iyengar yoga, a practice that brought about a remarkable transformation. He transitioned from a daily regimen of painkillers to a pain-free existence, with occasional anti-inflammatory medication required only on days with two matches. Bopanna's knees were a constant reminder to him to exercise caution, as they still lacked cartilage.
During the pause in professional tennis caused by the Covid-19 pandemic, Bopanna developed a deep interest in Iyengar yoga, dedicating himself to four sessions a week, each lasting 90 minutes. The impact was profound, leading to a pain-free return to the court and a renewed sense of his tennis potential.
Today, Bopanna's morning routine includes a shorter session of yoga, which not only helps align his body but also maintains mental composure. Surrounding himself with the right support team has been crucial to his success. Scott Davidoff, his long-time companion on the road for 12 to 13 years, has played a pivotal role in understanding his game. Additionally, Bopanna made the decision to invest in a skilled physiotherapist this year, a move that was absent in his support structure last year. These measures have collectively contributed to Bopanna's remarkable resurgence in the world of professional tennis.
Also Read: US Open 2023: Coco Gauff secures spot in Women's singles final with straight sets win over Karolina Muchova
Last Updated Sep 8, 2023, 6:48 PM IST