Australian Open: 'We created a monster' - Supporters go berserk as Djokovic levels Nadal with 22 Slam titles
Australian Open 2023: Novak Djokovic has tamed Stefanos Tsitsipas in the final in straight sets, winning his 10th title at the tournament and the 22nd Grand Slam title. As he has levelled Rafael Nada's record, his supporters have gone berserk.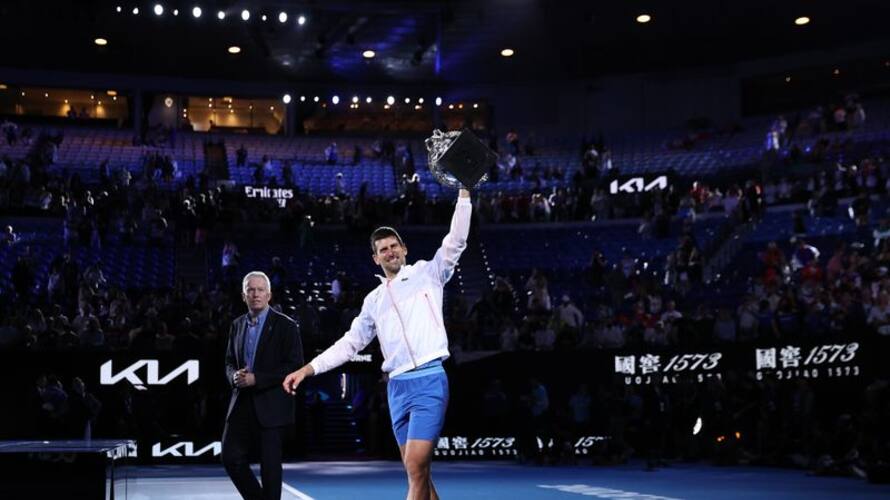 Novak Djokovic of Serbia has done it again. He has won the 2023 Australian Open (AO), thus winning his record-extending tenth AO title. However, most importantly, it is his 22nd Grand Slam title, as he has equalled fellow rival Rafael Nadal of Spain on the same, but is the quickest to do so. As for this, he tamed Stefanos Tsitsipas in straight sets on Melbourne, winning 6-3, 7-6(4), 7-6(5). Despite the Serbian winning in straight sets, it was extremely action-packed and challenging, with the Greek bringing out his A-game and serving a tough competition. However, Djokovic used his veteran experience to emerge on top, not only to win but also to reclaim the top spot in the ATP Singles Rankings.
As for Djokovic's success, he has won a major championship every 3.2 events compared to Nadal (3.5), with Roger Federer (4.4) and Pete Sampras (4.9) leading the chart. While AO remains his most successful Slam to date, he is the third-oldest guy (35) to win a Slam in the Open Era, behind Ken Rosewall and Federer, who won at 36. He has also won 17 consecutive contests against opponents in the Top 5.
ALSO READ: Sabalenka crowned Australian Open 2023 champion; bags maiden Grand Slam title with win over Rybakina
Speaking on the conquest, Djokovic said, "This has been one of the most difficult tournaments, considering the circumstances. not playing last year and coming back this year. I want to thank all the people who made me feel comfortable. There is a reason I have been playing my best tennis here. Only the team and the family know what we have been through. I would say this is the biggest victory in my life, considering the circumstances."
Djokovic praised Tsitsipas for his brilliant gameplay, remarking, "I congratulate you on an amazing tournament. This is not your last grand slam. You have lots of time, more than me. I still think you are very interesting. We are small countries that don't have a tennis tradition. The message for any young tennis player around the world, who is dreaming of being where Stefanos and I are, is: dream big. It doesn't matter where you are coming from."
ALSO READ: 'Ubuntu': What does the African word Tsitsipas signed after storming into Australian Open 2023 final mean?
The Greek also appreciated the Serbian and said, "I don't know what to say, but it speaks for itself. It's all in the numbers. You make me a better player when I am on the court. I have had the privilege to play a lot of high-intensity games, but these are the matches I have been working for my entire life for. He's one of the greatest in our sport. He's the greatest who ever held a tennis racket."
Last Updated Jan 29, 2023, 6:06 PM IST