Zlatan Ibrahimovic reveals best player he's ever seen, gives verdict on Haaland vs Mbappe and more - WATCH
In conversation on Piers Morgan uncensored, legendary Swedish footballer Zlatan Ibrahimovic spoke at length about his retirement, relationship with Pep Guardiola, the best player he's ever seen, picks between Erling Haaland and Kylian Mbappe, and more.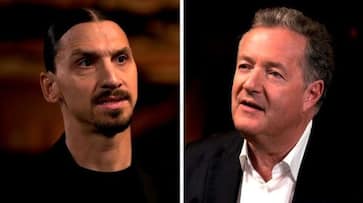 Zlatan Ibrahimovic, without a doubt, stands as one of the premier strikers of his era. He achieved remarkable success with several top European clubs, leaving an indelible mark at Barcelona, Paris Saint-Germain, Inter Milan, AC Milan, Ajax, and Manchester United. While the legendary Swedish footballer's career boasts an impressive list of accomplishments, one elusive trophy consistently escaped Ibrahimovic's grasp—the coveted Champions League. Despite amassing a staggering total of 12 league titles and showcasing his goal-scoring prowess with over 570 senior career goals, the prestigious Champions League trophy remained just out of reach throughout his storied journey in football.
In an exclusive interview on Piers Morgan uncensored, the 12-time Guldbollen (Swedish player of the year) opened up on an array of topics including his retirement, upbringing, his wife Helena, importance of money, relationship with Pep Guardiola and Jose Mourinho, his iconic 2006 World Cup goal against England, current situation at Manchester United, the best player he's ever seen, talented youngsters like Erling Haaland and Kylian Mbappe, and more.
Talking about the best player Zlatan has ever seen, the Swedish legend took Brazilian icon Ronaldo's name. "For me, the best player is the one that changed the game. The one that you will go out as a young fan and you will do what he does. For me Brazil's Ronaldo was phenomenal when he came out. He was different."
"I remember, I was young boy and when I saw his games and that time we didn't have digital platform, we had only YouTube, so we could see his tricks, his dribbles, his goals. We didn't have YouTube on phone, we had it on the computer. We were in school, we were going into a room full of computers and watch his videos and study the tricks, study the dribbles and we would go out and try these things," the 42-year-old added.
"For me he was football. He was not playing. He was football. Everybody wanted to be like him. Today we see a lot of players score a lot of goals. They do amazing things, but they don't change the game like he did. I don't think they go out and do things like the players do today. When Ronaldo came, they went there and tried to do whatever he did. It was totally different," he stated.
Erling Haaland vs Kylian Mbappe
When asked to pick between Erling Haaland and Kylian Mbappe, Zlatan Ibrahimovic stated, "I think they are both amazing. Haaland is very intelligent, the way he is playing. He doesn't touch the ball more than he needs to. He has this killer instinct. Even if he has a hat-trick, he wants to score a 4th goal, 5th goal. He is in the perfect environment. If he doesn't get goals, you will say he didn't have a good day."
"Mbappe is more of a complete player. He can do more things than Haaland. He can do the unexpected. He will do things that will make you go wow. He reminds me of Brazil's Ronaldo. He would do things that others cannot do. Can he get better? Yes, he can get much better. He just needs to focus on football," the former AC Milan striker added.
'I don't do trials'
During his interview with Piers Morgan, Zlatan also revealed the reason behind why his move from Malmo to Arsenal didn't materialise at the age of 17. "When I was young, I had a lot of interest from a lot of clubs, and one of them was Arsenal," Ibrahimovic began on Piers Morgan Uncensored. 
"So, I came to the office of Mr Arsene Wenger, and it was a big hype because I saw these players, (Dennis) Bergkamp, (Thierry )Henry, I saw (Freddie) Ljungberg, I saw (Patrick) Vieira, I saw all these players, and I was like "F**k, this is big", because these players I see on TV, even if I already played in high level Sweden. But this was big, because this was like, "I am here now". Last week I was playing PlayStation with these guys. And I spoke with Wenger, he was tall, I didn't expect him to be so tall," he added.
He further stated, "I came in his office and we spoke and he was like, "What do you want?" He wanted to get to know me, to feel me. Because I think he is a type of person, he just don't buy the player, he wants to know what he is buying I think. In the end, he had an Arsenal shirt with Number 9 and, "We want you to come and do a trial for two weeks."
"Everything was good until he said you come and do a trial. I was looking at him. Obviously he is Wenger, I am nobody at that moment. I said, "I don't do trials", and he was like, "What do you mean? "I don't do trials, either you want me or you don't want me, or else why am I here?" That was me, but it was not to play a game, it was me. "No, but you have to come and do a trial" and then, "No, no, you don't understand, I don't do trials". That was it, I never went to Arsenal," Zlatan concluded.
Last Updated Oct 6, 2023, 5:00 PM IST