Ronaldo vs Messi in Riyadh: Here's how much PSG will earn for playing against Saudi all-star team
Lionel Messi's Paris Saint-Germain (PSG) will face a combined team of Al-Nassr and Al-Hilal stars, captained by Cristiano Ronaldo, in a friendly clash on January 19.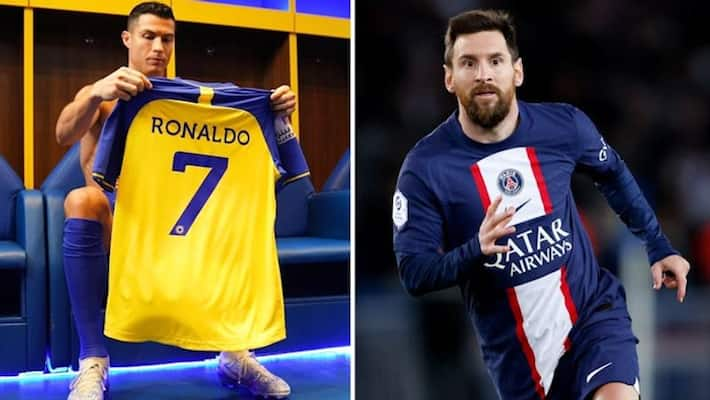 Legendary footballers Cristiano Ronaldo and Lionel Messi are all set for an epic encounter as fans anticipate what may be the final meeting of a rivalry that has engulfed the sport for many years. A combined XI comprising Al-Nassr and Al-Hilal stars, known as the Riyadh XI, will take on Paris Saint-Germain (PSG) on January 19 at the King Fahd Stadium in a match that is predicted to pique the interest of football fans all over the world.
The fact that the Al-Nassr striker has been awarded the captain's armband for leading the Saudi all-star team against Messi and Co. has increased the excitement, especially for Ronaldo fans.
Also read: Ronaldo vs Messi in Saudi Arabia: Al-Nassr's new star to captain Riyadh ST XI against PSG in friendly
Ahead of the Ronaldo vs Messi clash, French media outlet L'Equipe revealed that PSG would receive a compensation of around 10 million euros from playing the friendly against the Saudi all-star team, which is a game part of their Qatar 2023 tour.
Ronaldo and Messi, who have shared 12 Ballon d'Or victories, may never again square off against one another on the field. The duo developed a fierce rivalry in Spain, featuring prominently in multiple El Clasicos for Real Madrid and Barcelona, respectively.
In 2018, Ronaldo moved to Juventus from Spain, and since the Italian powerhouses' December 2020 visit to the Nou Camp, Ronaldo hasn't faced off against Messi. The Al-Nassr star is unlikely to come up against Argentina's World Cup-winning captain again if the former Barcelona icon renews his contract with PSG beyond this season. 
Also read: Ronaldo vs Messi in Saudi Arabia: Date, time, venue, tickets, where to watch in India and more
Thursday's game will see Ronaldo in action for the first time on Saudi Arabian soil since joining Al-Nassr last month in a deal that will see the Portuguese talisman earn 175 million pounds annually. The former Manchester legend, who recently served a pending 2-match FA ban for the infamous incident at Everton last season, is likely to make his Saudi Pro League debut against Al-Ettifaq on January 22.
Tickets for the Riyadh XI vs PSG clash, which will take place at 8:30 PM IST on January 19, were sold out within minutes after going on sale earlier in the week. According to a report by ESPN, over 2 million individuals sought to get into the 68,000-seat King Fahd Stadium in Riyadh. The exhibition game between Riyadh XI and PSG will be available for live streaming on PSG TV and the club's social media.
As far as the Saudi Pro League is concerned, Ronaldo fans can watch Al-Nassr's new hero in action on Shahid-MBC. Subscription charges are: 13.99 USD per month (1141.13 INR) or 99.99 USD annually (8286.26 INR). It is unknown whether Shahid-MBC will live stream the January 19's Riyadh XI vs PSG match.
Also read: Ahead of Ronaldo vs Messi clash in Riyadh, Al-Nassr star enjoys 'quality time' with Georgina and kids
Last Updated Jan 17, 2023, 4:38 PM IST