Ronaldo vs Messi in Saudi Arabia: Al-Nassr's new star to captain Riyadh ST XI against PSG in friendly
Al-Nassr's new star Cristiano Ronaldo will debut on Saudi Arabian soil on January 19 when he takes the field as captain of Riyadh ST XI in a friendly match against arch-rival Lionel Messi and Paris Saint-Germain (PSG).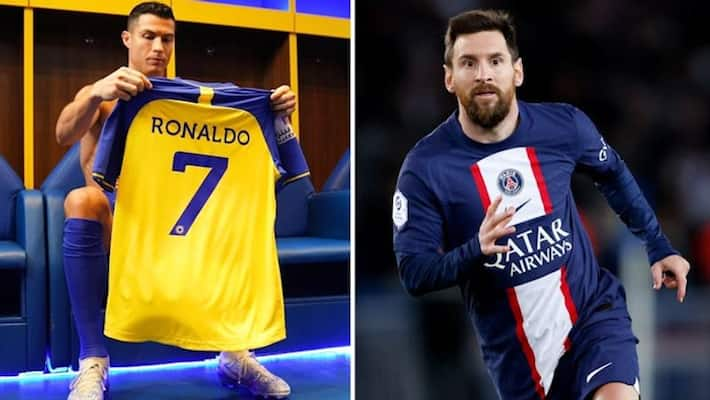 The stage is set for an epic clash between legendary footballers Cristiano Ronaldo and Lionel Messi, and fans await perhaps the last encounter of a rivalry that has gripped the sport for several years. On January 19, a combined XI of Al-Nassr and Al-Hilal stars, called Riyadh ST XI, will face Paris Saint-Germain (PSG) at the King Fahd Stadium in a match expected to capture the imagination of football enthusiasts worldwide.
Also read: Ronaldo vs Messi in Saudi Arabia: Date, time, venue, tickets, where to watch in India and more
What has added to the excitement, especially for Ronaldo fans, is that the Al-Nassr striker has been given the captain armband to lead the all-star team of Riyadh ST XI against Messi and Co. In a video shared by the Chairman of the Riyadh Season, Turki Al-Sheikh, the Portuguese talisman was given the captain band, sparking massive fervour among CR7 fans.
"The promise, God willing, on January 19... a meeting beyond imagination... and the team manager, Captain Khaled Al-Shanif, God willing, and the squad will be announced tomorrow by the coach and Khaled... I hope that day we will forget Al-Hilal and Al-Nassr for two hours and we will all become the Riyadh season... and after two hours we will stop the truce," he tweeted.
Al-Nassr boss Rudi Garcia recently confirmed that Ronaldo would debut on Saudi Arabian soil in the friendly clash against PSG, before making his first start for his new team in the Saudi Pro League. The 37-year-old star recently served a pending 2-match FA ban for the infamous Everton season after Manchester United's loss at Goodison Park last season. The five-time Ballon d'Or winner missed Al-Nassr's clash against Al-Ta'ee and Al-Shabab and will now be part of the team taking on Al-Ettifaq on January 22.
Tickets for the Riyadh ST XI vs PSG clash, which will take place at 8:30 PM IST, were sold out within minutes after going on sale earlier in the week. According to a report by ESPN, over 2 million individuals sought to get into the 68,000-seat King Fahd Stadium in Riyadh. The exhibition game between Riyadh ST XI and Paris Saint Germain will be available for live streaming on PSG TV and PSG social media.
Also read: Ronaldo vs Messi on Saudi Arabian soil: Here's what happened when the legends clashed last time
As far as the Saudi Pro League is concerned, Ronaldo fans can watch Al-Nassr's new hero in action on Shahid-MBC. Subscription charges are: 13.99 USD per month (1141.13 INR) or 99.99 USD annually (8286.26 INR). It is unknown whether Shahid-MBC will live stream the January 19's Riyadh ST XI vs PSG match.
Last Updated Jan 17, 2023, 2:25 PM IST