Ronaldo or Benzema - who trains like a beast? Real Madrid star's personal coach gives shocking response
Real Madrid star Karim Benzema's trainer, Javier Atalaya, has provided an update on the Frenchman's recovery from an injury he suffered during the club's 2-0 win over Valencia last week.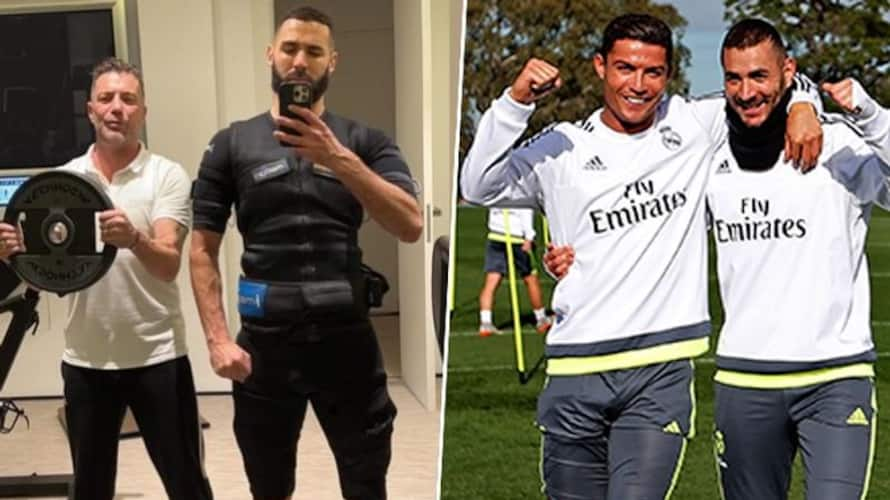 Real Madrid, who are due to play Al-Ahly in the Club World Cup semi-final on Wednesday night, will feature in the clash without their key striker Karim Benzema. The Frenchman suffered an injury during the Los Blancos' 2-0 win over Valencia last week, sparking concern among fans of the La Liga giants.
However, Benzema's personal trainer, Javier Atalaya, has revealed that the injury to the Ballon d'Or 2022 winner is not a serious one. "We are calm with Benzema because it is not a serious injury," he said.
Also read: Meet Cristiano Ronaldo's trusted entourage - from the man who controls his finances to a journalist!
"Karim (Benzema) is getting better every day. He is at home, without having anything to do, and he goes down to the gym to train," Atalaya emphasised. "The Frenchman's mentality involves improving every day."
While speaking about Benzema's training routine and the intensity with which the 35-year-old striker plays, Atalaya made a massive claim as he compared the Frenchman with his former Real Madrid teammate Cristiano Ronaldo.
The Portuguese talisman, who joined Al-Nassr after his abrupt departure from Manchester United in November, is lauded as one of the fittest athletes in the world. Ronaldo often shares photographs from his training sessions and inspires millions worldwide to stay dedicated and focused on their fitness routines. However, despite enjoying the status of a fitness icon, Atalaya revealed that even the 38-year-old legend was no match to Benzema's training.
Also read: 'RIP Man City': Meme fest after club charged by Premier League for breaking financial rules over 100 times
"Not even Cristiano could stand the training that Benzema does," the Frenchman's personal trainer, who once coached Ronaldo at Real Madrid, revealed.
Los Blancos take on Egyptian side Al-Ahly at the semi-final stage on February 8 ahead of a potential final three days later. However, despite being the tournament's favourites, Carlo Ancelotti's plans have been hit by some key absences.
After sustaining an adductor muscle injury during warm-ups for their 1-0 La Liga loss against Mallorca, goalkeeper Thibaut Courtois has been ruled out. Andriy Lunin will step in to fill in for the Belgian international. 
Due to injuries, Eder Militao and captain Karim Benzema could not travel to Palma, and neither player has since healed in time to make the trip to Morocco. 
Despite his desire to win another global championship, Ancelotti is anticipated to shuffle his starting lineup for the match, giving squad members a chance to shine in Rabat. Real Madrid would play either Flamengo or Al-Hilal in the championship game.
Last Updated Feb 7, 2023, 2:17 PM IST