PSG star Mbappe insists former teammate Messi deserves the Ballon d'Or (WATCH)
In a recent press conference, Kylian Mbappe openly endorsed Lionel Messi's well-deserved eighth Ballon d'Or win, emphasizing Messi's pivotal role in Argentina's World Cup victory.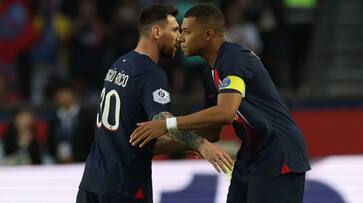 Mbappe expressed in a press conference on Friday that Lionel Messi rightfully earned the Ballon d'Or this year. Speaking confidently, Mbappe acknowledged that he holds no reservations about the results, stating, "I am not someone that is afraid. I have no problem; the ranking is what it is. Messi deserves it." In the context of Messi's captaincy during Argentina's victory in the 2022 World Cup final against France, where Mbappe showcased his talent with a hat-trick, Mbappe emphasized, "When Messi wins the World Cup, Messi has to win the Ballon d'Or. He's one of the best players in history, if not the best."
Messi, who led Argentina to World Cup glory, secured the Golden Ball award, while Mbappe claimed the Golden Boot with eight goals. In Mbappe's view, Messi's exceptional achievements made him deserving of the prestigious Ballon d'Or. "Messi had to win the Ballon d'Or; he won the World Cup, he's one of the greatest in history, if not the greatest for me," Mbappe added, acknowledging the significance of Messi's contributions.
Ultimately, Messi clinched his eighth Ballon d'Or, extending his record, with Erling Haaland and Mbappe securing second and third place, respectively.
Also Read: Everton faces points deduction in Premier League over profit and sustainability rule breach
Last Updated Nov 18, 2023, 1:24 PM IST