PSG, Bayern Munich fans engage in war of words as Mbappe injury looms large over Champions League clash
Kylian Mbappe is a doubt to face Bayern Munich in the Champions League this month after the Paris Saint-Germain (PSG) star came off injured against Montpellier on Wednesday.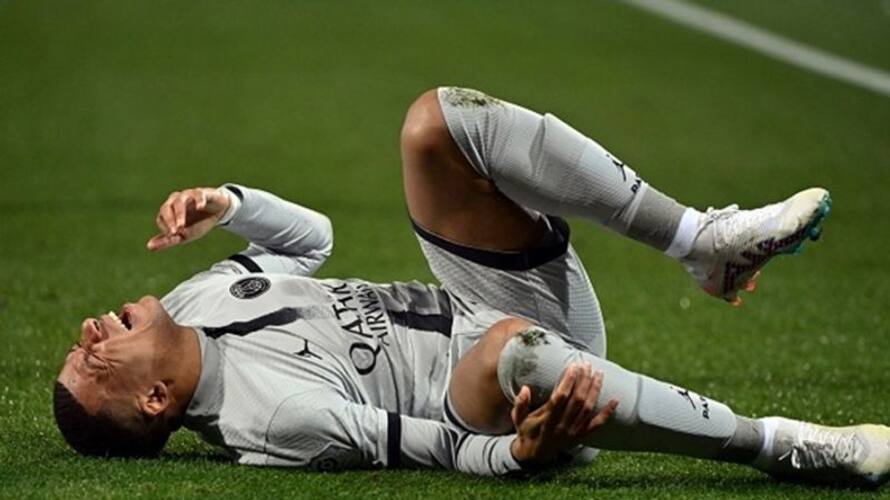 In what has sparked massive concern among Paris Saint-Germain (PSG) fans, star forward Kylian Mbappe suffered an injury against Montpellier on Wednesday, raising concerns over his availability for a crucial Champions League clash against Bayern Munich later this month.
Also read: Ligue 1 2022-23: 'We think it's not serious' - Galtier on Mbappe's injury after PSG triumph over Montpellier
After being tackled by Montpellier midfielder Leo Leroy, Mbappe, who had earlier squandered two opportunities to score from the penalty spot, sustained knee and thigh injuries and had to be replaced in the 21st minute of PSG's 3-1 victory. The 2018 French World Cup winner's troubled expression when he left the field and, subsequently, the stadium conveyed his worry.
Even though PSG manager Christophe Galtier was optimistic after the game, there is anxiety within the club and around its fans regarding the extent of Mbappe's injury.
"Is it a bruise? Is it a contusion? We don't know yet," Galtier said. "It doesn't look very serious. We're not too worried."
Mbappe will have scans early on Thursday morning, but with the first leg of the Champions League last 16 against Bayern Munich in less than two weeks, his health will remain a concern until then. The 24-year-old could miss the earlier high-profile clashes against Marseille in the French Cup and Monaco in Ligue 1.
Sergio Ramos also came off early on Wednesday with a groin problem, while Neymar struggled with his ankle and didn't travel to Montpellier.
News of Mbappe's injury concern, coupled with the Brazilian star's ankle issue, has led to a war of words on Twitter between fans of PSG and Bayern Munich. While most supporters of the French giants are hoping that their two key players are fit for the crucial Champions League clash, fans of the German giants set a joke factory rolling on the micro-blogging site.
PSG fans also believe that the likes of legendary forward Lionel Messi, young sensation Warren Zaire-Emery, who created history on Wednesday, and others would be enough to tackle the Champions League challenge against Bayern Munich.
Also read: Zaire-Emery cherishes historic PSG goal celebration with Messi; fans credit G.O.A.T effect
"Messi is enough. Neymar added on is just greatnesss," said one PSG fan, while another added, "I really hope they (Mbappe, Neymar, Ramos) will be okay before then."
A third PSG supporter said, "Messi will own Bayern by himself," while a fourth noted, "Mbappe will still cook Bayern."
Meanwhile, one Bayern Munich fan remarked, "Mbappe the proud flop!! As I said, he feels entitled at a very young age and thinks he's on top of d world. He's going to miss out on the champions league's most crucial stages and miss out on potential awards. He needs to learn humility."
"Mbappe ain't injured. The guy is faking after that embarrassing penalty situation," noted another German giants' supporter.
Here's a look at the war of words that has ensued since Mbappe's injury scare surfaced on Wednesday night:
Last Updated Feb 2, 2023, 2:40 PM IST