'Made in Argentina': Fans thrilled to see Aguero imitate Messi's celebration after scoring in Kings League
After retiring in 2021 with cardiac arrhythmia, iconic Argentinian striker Sergio Aguero made a goal-scoring return to football as he levelled the match for his KuniSports outfit against Porcinos FC in Gerard Pique's Kings League.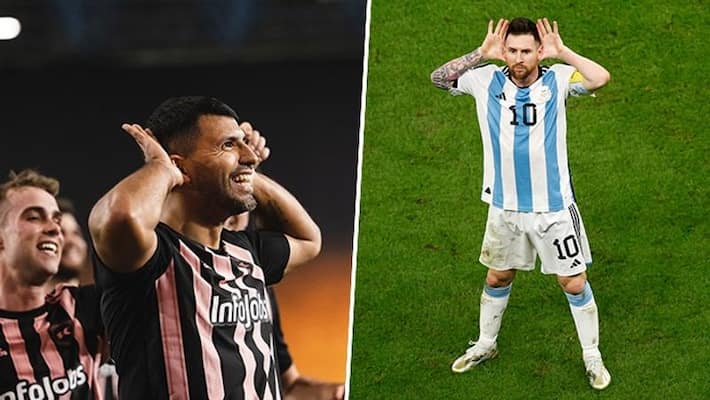 Former Argentina and Manchester City striker Sergio Aguero, who retired from football in 2021 after being diagnosed with a heart arrhythmia, scored on his comeback before imitating his close buddy Lionel Messi's celebration to honour his goal. 
Also read: Ronaldo vs Messi in Saudi Arabia: Al-Nassr's new star to captain Riyadh ST XI against PSG in friendly
Aguero got on the scoresheet for his own Kings League team KuniSports in their penalty shoot-out loss to Porcinos FC, before making for the corner flag and replicating Messi's hands-behind-the-ears pose.
After obtaining the all-clear from Ecuador's Barcelona SC, it was stated that Aguero would be making a brief comeback to football this month. However, the Argentinian icon appeared to brush up on his skills in the Kings League, setting off a social media frenzy as fans tried to identify the 'masked winger'.
With KuniSports 2-1 down to Porcinos FC, led by one of Spain's most popular Twitch streamers Ibai Llanos, Aguero scored a stunning equaliser. The 34-year-old took a touch off his feet after receiving a pass on his chest and then unleashed a left-footed shot into the bottom corner with a style of finishing familiar to Manchester City supporters.
The forward rushed to celebrate his goal-scoring return to football with his teammates and seized the chance to imitate the celebration of Argentina's World Cup 2022-winning captain, Messi. Aguero went to the corner and stopped before the Porcinos FC box, placing both hands over his ears.
Notably, Messi directed his celebratory gesture at Louis van Gaal during the World Cup victory over the Netherlands at Doha's Lusail Stadium. The gesture is believed to have responded to Van Gaal's poor treatment of Argentine icon Juan Riquelme while managing Barcelona, where he was frequently benched and played out of position.
After scoring, Riquelme was renowned for cupping his ears with his hands, which may have inspired the stance. 
The Kings League, the latest creation of Gerard Pique, has 12 seven-a-side teams competing for a championship under the leadership of a mix of former pros, Twitch streamers, and online personalities.
Also read: Mbappe vilified for failing to convert Messi assist in PSG's 2nd defeat post World Cup break
Aguero managed to score the crucial equaliser, but he could not lead his team to victory. The former Barcelona striker missed his penalty in the ensuing shootout after his shot hit the post.
Regardless of the results, fans of the iconic Argentinian striker are thrilled to see the player again in action. "I'm just happy to see Kun playing again," noted one fan, while another added, "Great to see Sergio back on a pitch doing what he does best."
A third fan of Aguero noted, "The way he waited for that defender to react. Elite goalscorer," while a fourth added, "It's the Messi-inspired celebration for me."
Here's a look at some of the reactions:
Last Updated Jan 16, 2023, 9:48 PM IST