Liverpool star Luis Diaz breaks his silence on father's kidnapping; urges fans to 'march' for his release
Liverpool's star player, Luis Diaz, recently made an emotional appeal on Instagram, seeking support and solidarity as he grapples with the kidnapping of his parents in Barrancas, Colombia.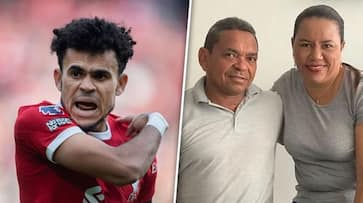 Liverpool's standout player, Luis Diaz, has chosen to speak out regarding the harrowing incident of his parents' kidnapping, which unfolded last Saturday. In a heartfelt Instagram Story, the Colombian footballer has implored his followers to rally behind the cause of securing the freedom of his father, Luis Manuel Diaz, affectionately known as Mane Diaz. Although his mother was successfully rescued from her captors, the search for Diaz's father remains ongoing. The ordeal transpired when armed gunmen abducted Mr. Diaz's parents at a fuel station in their hometown of Barrancas, La Guajira, located in the northern region of Colombia.
Colombia's attorney general's office has been actively engaged in the case, and President Gustavo Petro has been providing updates on the situation. Attorney General Francisco Barbosa has even suggested the possibility of Mr. Diaz's father being in Venezuela, emphasising the potential need for international cooperation in securing his release.
Amidst these trying circumstances, Mr. Diaz's social media post has extended an invitation to the entire community, urging them to join in a collective candlelight vigil to kindle the flame of hope and appeal to the captors for his father's immediate release.
Throughout this challenging time, Mr. Diaz has also shared details of a vigil organized for his father, demonstrating the unity and support he has garnered. Liverpool's manager, Jurgen Klopp, has conveyed the footballer's strong desire to return home upon learning of his parents' abduction. The club has provided him with essential support, including sending officials to accompany him during this distressing period.
Also Read: Will Messi come back for another Ballon d'Or? Argentina hero reveals future plans after claiming 8th award
Last Updated Nov 1, 2023, 1:41 PM IST