Lionel Messi's electrifying performance seals Argentina's 2-0 victory against Peru
Lionel Messi displayed brilliance donning the Argentine jersey, leading the team to a dominant 2-0 victory against Peru in a FIFA World Cup qualifier. Scoring both goals, Messi's remarkable performance included a mesmerising dribble that left fans in awe.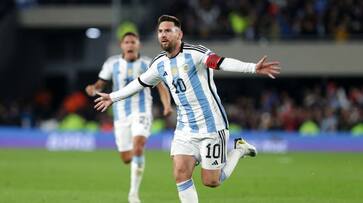 Lionel Messi showcased his exceptional skills wearing the Argentine jersey, putting up a dazzling performance that left fans around the world in awe. Peru proved no match for Argentina in the World Cup 2026 qualifier match as they succumbed to a 2-0 defeat, courtesy of a brilliant brace by Messi, often hailed as the greatest of all time. However, it wasn't just Messi's goals that set fans buzzing; the 36-year-old maestro pulled off a mesmerizing dribble during the game, leaving two Peru players bewildered. This remarkable display has gone viral on social media.
In the previous match against Paraguay, Messi played from the bench as Argentina secured a 1-0 victory. However, in the match against Peru, Messi started and displayed no signs of rustiness. He opened the scoring for Argentina in the 32nd minute and swiftly doubled the lead just ten minutes later. Throughout the game, he continued to create opportunities and posed a constant threat to the Peru goal, although the third goal remained elusive.
Reflecting on the Argentine national team's performance after the win, Messi emphasized their impressive lineup and distinct style of play, expressing their desire to persist on this path. He exuded confidence and unity after their World Cup victory, hopeful for further growth.
Argentine coach Lionel Scaloni emphasized the importance of Messi's health and praised his ability to manage his playing time. Argentina maintained their position at the top of the CONMEBOL standings with 12 points.
In a notable update, Messi will not participate in Inter Miami's two remaining matches, effectively concluding his MLS season.
Also Read: Manchester United sale saga: Jim Ratcliffe's potential 25 percent stake leaves fans in limbo over club future
Last Updated Oct 18, 2023, 1:41 PM IST