How did Sir Alex Ferguson help David Moyes land Manchester United managerial job?
After Sir Alex Ferguson quit his managerial role at Manchester United in 2013, he was replaced by David Moyes, who could not last for a season. But how did the latter end up landing the role?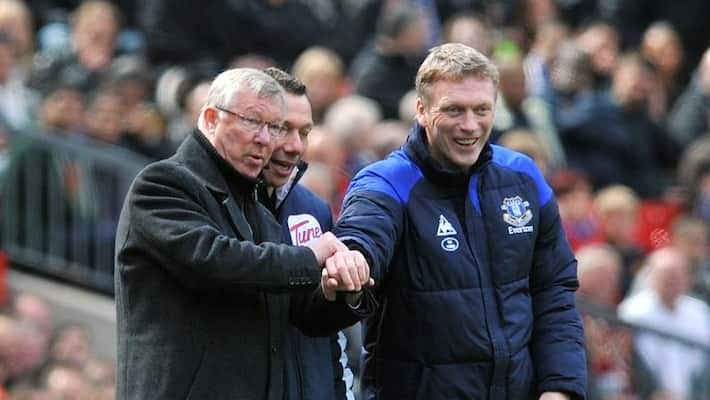 Record 20-time former English champion Manchester United bid farewell to its most successful head coach Sir Alex Ferguson nearly a decade ago, after he stepped down from the role following a triumphant 2012-13 season. He was replaced by fellow Scotsman David Moyes, who quit his then-job at Everton to take up the position at Old Trafford, only to quit after nine months after a disastrous start to his campaign. While fans were apprehensive about the Scotsman replacing the legendary one, Moyes has insisted that he was unfairly treated at Old Trafford and never given a chance to prove himself. Meanwhile, he has recently revealed how he landed the role.
Lecturing on the Diary of a CEO podcast, Moyes demonstrated, "He [Ferguson] took me to his house! It wasn't long after I turned 50, my wife bought me a watch, and we went to Manchester to the jewellers. I needed to get a link taken out. It was in Altrincham of all places, and the phone rang, and it was Sir Alex."
ALSO READ: 'IT'S WORSE THAN LOSING A FAMILY MEMBER' - RICHARLISON ON BRAZIL'S QATAR WORLD CUP 2022 EXIT
"I said, 'oh, bloody hell, it's Alex on the phone', and I thought, 'oh, he's going to want one of my players or me to take one of his players'. He said, 'where are you?'. I said I was in Manchester. He said, 'come out to the house when you're ready, will you?'. I said to my wife, 'I can't do it. I'm in my jeans'. I couldn't go to Sir Alex with a pair of jeans on. There's no way!"
"So, I'm like, 'what am I going to do? Do I go down to Marks & Spencer's and buy a pair of trousers before I go to Sir Alex?'. She's saying to get on with it. So, I dropped my wife off at the shopping centre and drove to Sir Alex's house," Moyes continued.
ALSO READ: 'Made in Argentina' - Fans thrilled to see Aguero imitate Messi's celebration after scoring in Kings League
"I went in. He [Ferguson] says, 'in you come'. Nice house, he's got a lovely sort of sports room up the stairs, he says 'you want a cup of tea?' and I said yeah. And, he said, 'I'm retiring, and you're the next manager of Manchester United'. No interview, no telling me, not saying 'would you like to be?', [only] 'I'm retiring', and I nearly slipped down because obviously nobody knew Sir Alex was retiring. Nobody even suggested or thought about it," recalled Moyes.
"And, I sort of said, 'yeah, okay'. I wasn't going to turn down, or I didn't think I would say no or could even know I was in a position to say no. That was as simple as that. We got underway. And there were only four weeks to go until the end of the season, maybe five weeks. I was coming out of my contract at Everton. I wanted to be respectful to them. And my next game was against Liverpool. If we had a draw with Liverpool, we would probably finish above them in the league. It was at Anfield, and we did get a draw. We did finish above them. So, it didn't affect Everton," Moyes remembered.
ALSO READ: Revealed - Here's how Mykhailo Mudryk's move to Chelsea will help Ukraine's fight against Russia
"I met Ed Woodward [then-United CEO] the next day, and then, I met the Glazers. So, it was three days since I dropped back at [Sir Alex's] house. My biggest problem was he said, 'you can't tell anybody about me retiring. Nobody knows. Tell your wife, but nobody else'. So, I can't tell my kids, I couldn't tell my dad that I was going to get the job," divulged Moyes.
"When I look back now, to get that offer from arguably the greatest manager maybe there ever was was a great compliment. But maybe, if I looked into it in more detail and depth, I was desperate to be successful as a manager. I had 11 years at Everton where I wouldn't say we'd hit a glass ceiling, but I found it difficult to break into the top four, the competition and money required," Moyes wondered.
ALSO READ: Ronaldo vs Messi in Saudi Arabia - Al-Nassr's new star to captain Riyadh ST XI against PSG in friendly
"But, my biggest regret was I was so close to Bill Kenwright, the owner at Everton, and I couldn't tell him. It didn't feel good that I couldn't tell him. I was close to Bill but couldn't break my word with Alex. I couldn't tell anybody but my wife. So, I jumped back in the car, drove back to the shopping mall, got the wife, put her in the car, and said, 'I'm the new manager of Man United'. And she said, 'piss off, you're talking rubbish'!" concluded Moyes.
Last Updated Jan 17, 2023, 1:49 PM IST