Ronaldo vs Messi in Saudi Pro League? After Al-Hilal, now Al-Ittihad 'willing' to sign PSG star
Legendary forward Lionel Messi reportedly has another suitor from Saudi Arabia - with Al-Ittihad said to have joined Al-Hilal in the race for the PSG star. Will Saudi Pro League be witness to the iconic Cristiano Ronaldo vs Lionel Messi rivalry?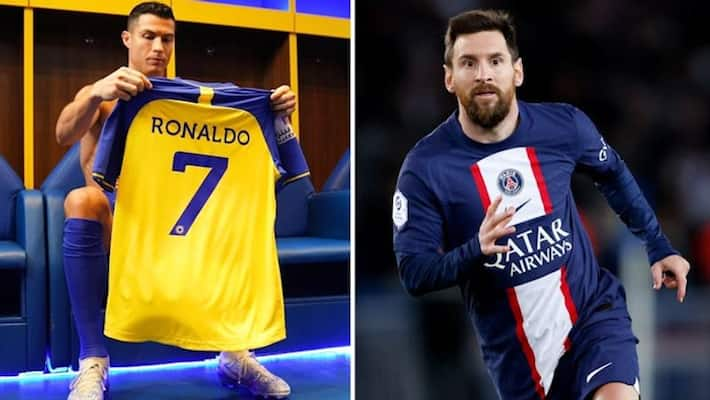 Since Al-Nassr signed legendary striker Cristiano Ronaldo last month, clubs in the Saudi Pro League are considering roping his arch-rival Lionel Messi to the Middle Eastern country. After Al-Hilal, Al-Ittihad has reportedly joined the race to sign the Paris Saint-Germain (PSG) star.
Earlier this week, reports claimed Al-Hilal are willing to pay 245 million pounds for the World Cup-winning Argentine, but Al-Ittihad are now believed to have shown interest in signing the 35-year-old legend - with the Saudi Pro League eyeing to boost its star power following Ronaldo's high-profile move to Al-Nassr.
Also read: Ronaldo vs Messi in Saudi Arabia: Date, time, venue, tickets, where to watch in India and more
According to Spanish media outlet MARCA, Al-Hilal are willing to match Al-Ittihad's offer to Messi, which is a staggering 306 million pounds per season, surpassing the 175 million pounds that his former rival Ronaldo earns. Additionally, the report claims that Messi's potential new clubs, now under FIFA sanctions for "irregularities," won't be allowed to sign him until the summer.
Sergio Ramos, Angel Di Maria, and Luka Modric are among the players MARCA lists as objectives for the Saudi league. 
Considering that Messi will be out of contract with PSG in June, the seven-time Ballon d'Or winner should be available, but the 35-year-old is rumoured to have promised the team he will sign a contract extension. 
In his first game after winning the Qatar World Cup 2022 in December, Messi scored in a superb effort for the French team earlier this week against Angers in Ligue 1. 
Also read: 'Nice to Siuuu': Ronaldo meets Real Madrid stars ahead of El Clasico; sends strong message to Ancelotti & Co.
A resurgence of one of football's greatest rivalries might result from the Argentine star joining Al-Hilal or Al-Ittihad. The clash between Ronaldo and Messi appeared to be over when he transferred to Al-Nassr, but things could be set to alter.    
Clashes between Al-Nassr and Al-Hilal are compared to El Clasico in Saudi Arabia, and having Messi and Ronaldo on opposing sides will further intensify the atmosphere.
When PSG travels to Riyadh to take on an All-Star XI made up of players from Al-Nassr and Al-Hilal on January 19, the great players may face off against one another.
If Messi decides to leave Europe and accept either Al-Hilal or Al-Ittihad's offer, this might serve as a practice run for their subsequent encounter.
Also read: Messi fans outraged after leak reveals ex-Barcelona board member called icon 'sewer rat, hormonal dwarf'
Last Updated Jan 14, 2023, 1:45 PM IST