'Dream come true': Kadai Yasen Ahamed, lone Indian rider at MotoGP Bharat, aims to leave lasting impression
Chennai-based rider Kadai Yaseen Ahamed's remarkable journey to the Moto3 class in the inaugural MotoGP Bharat, overcoming challenges and pursuing his racing dreams.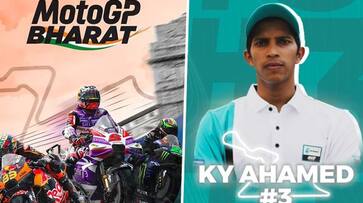 Several riders from various nationalities are set to showcase their skills at the inaugural MotoGP Bharat, also known as the Grand Prix of India, from September 22 to 24. However, until recently, there was a notable absence of an Indian name on the rider list. This situation changed a week ago when Kadai Yaseen Ahamed, a rider from Chennai, was given a surprise wildcard entry into the Moto3 class for the Petronas MIE Racing team.
Ahamed, a soft-spoken and reserved individual, was left speechless upon receiving what he described as the "call of his life." He expressed his excitement in an interview with TOI and stated, "It will be a dream come true for me to race in front of my home crowd at the Buddh International Circuit."
At 26 years old, Ahamed possesses the credentials to compete at the Moto3 level. In 2020, he clinched the national championship title in the ProStock 400 category. Additionally, he performed admirably in other prestigious championships, including the Thailand Superbike 400 series and the Asia Cup Japan.
In 2023, Ahamed participated in the Asia Road Racing Championship for TVS Racing. His journey in the world of racing began over a decade ago when, at the age of 13, he used to race on the road. It was former national motorcycle racing champion Jagan Kumar who noticed Ahamed's potential and introduced him to professional racing at a track in Chennai.
Ahamed reflected on his early days and told TOI, "He (Jagan) started training me, and as a 15-year-old, I started participating in races." He achieved a podium finish in his very first year of racing and joined TVS Racing's team for the national championship a year later. Remarkably, he secured his first national title at just 17 years old.
The Madras International Circuit served as Ahamed's initial training ground, while he later practiced at the Marina Kart Arena, also in Chennai. Ahamed's racing career continued to thrive as he clinched multiple national titles in subsequent years and achieved podium finishes in Asian-level championships.
In 2022, Ahamed earned the runner-up position at the prestigious Tehran Superbike Championship. Looking ahead to the Indian GP, he expressed his ambition, saying, "Participating at the Indian GP is just the beginning. Now, I will try and get podium finishes in the Moto3 class."
Ahamed's journey into motorcycle racing came from humble beginnings. Raised by a single mother in a joint family, he grew up in a middle-class household. His mother, Faridha, supported the family through small-scale tailoring and craftwork while nurturing Ahamed's racing dreams.
Initially concerned about the dangers of racing, Faridha eventually embraced her son's passion after he achieved his first podium finish. Jagan Kumar played a pivotal role in convincing her that this was professional racing, and Ahamed's winnings provided crucial support to the family. Today, Ahamed is proud to be taking care of his family.
Acknowledging the inherent risks in motorcycle racing, Ahamed stressed the importance of safety measures, including proper protection gear and professional riding kits. He also emphasized the need for riders to remain relaxed during races and avoid unnecessary pressure, highlighting the mental aspect of the sport.
Last Updated Sep 21, 2023, 1:11 PM IST