Asian Games 2023: Indian tennis duo Ramkumar-Myneni elated after clinching silver in men's doubles
Indian tennis duo Ramkumar Ramanathan and Saketh Myneni clinch silver in the men's doubles at the Asian Games 2023, narrowly defeated by Chinese Taipei's Hsu Yu-Hsiou and Jason Jung in a closely contested final.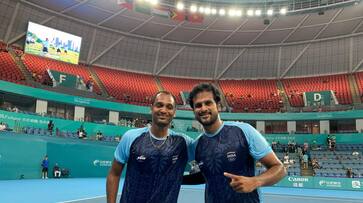 Ramkumar Ramanathan and Saketh Myneni secured the men's doubles silver medal at the Asian Games 2023 in Hangzhou, China, narrowly losing to Hsu Yu-Hsiou and Jason Jung from Chinese Taipei in the final. The unseeded Taipei team, boasting better-ranked singles players, displayed superior ground strokes and finesse to clinch a straight-sets victory of 6-4, 6-4 against the second-seeded Indian pair in the title showdown.
For Ramkumar Ramanathan, this silver medal marked his first-ever Asian Games medal, while it was the third for Saketh Myneni. Myneni had previously won a men's doubles silver with Sanam Singh and a gold with Sania Mirza in mixed doubles during the 2014 Incheon edition of the Games. This silver medal also represents the first tennis medal in this edition of the Asian Games. In the 2018 Games held in Indonesia, India secured three medals in tennis. However, this time, the Indian contingent will return with only two medals from Hangzhou.
Rohan Bopanna and Rutuja Bhosale have secured at least a bronze medal in mixed doubles after reaching the semifinals. Unfortunately, Indian players have been eliminated from other tennis events.
Ramkumar Ramanathan expressed his joy at winning the Asian Games medal, saying, "It is my first Asian Games medal, I always wanted to win a medal for India. It was one of my goals, and that too coming with Saki (Saketh), I'm very happy about it." He also emphasized that while the Asian Games are significant, every tournament holds immense importance for them as professional athletes, and they aim to continue bringing more medals for their country in the future.
In the men's doubles final, the first three games saw both teams holding their serves without dropping a point. The first point scored on a rival's serve came when Jason Jung double-faulted in the fourth game.
With the score at 2-2, all four players displayed high-quality serving. However, Hsu Yu-Hsiou and Jason Jung managed to break Ramkumar's serve and took a 4-2 lead. They consolidated this break, showcasing their prowess in deep returns and net play.
In the second set, Ramkumar's serve came under pressure again, and Taipei's team secured the victory with Hsu maintaining his serving rhythm.
Saketh Myneni reflected on their performance, stating, "Unfortunately, we came one short but very happy with whatever we played this week. I think we played some good tennis, and credit to Chinese Taipei today in the final. So very happy with the contribution with the medal to the Indian contingent." He also expressed the privilege and pride in representing India in international competitions and contributing to the country's sporting success.
Ramkumar Ramanathan and Saketh Myneni's silver medal performance in men's doubles added a significant achievement to India's Asian Games campaign in tennis, highlighting their dedication to representing their country on the international stage.
Last Updated Sep 29, 2023, 10:49 AM IST