Prarthana Kaul: Namma Bengaluru Awardee who gifts hope
Prarthana's GiftAbled.com has a wide-range of products for the specially-abled.
To live in a sensitized society is Prarthana's ultimate aim.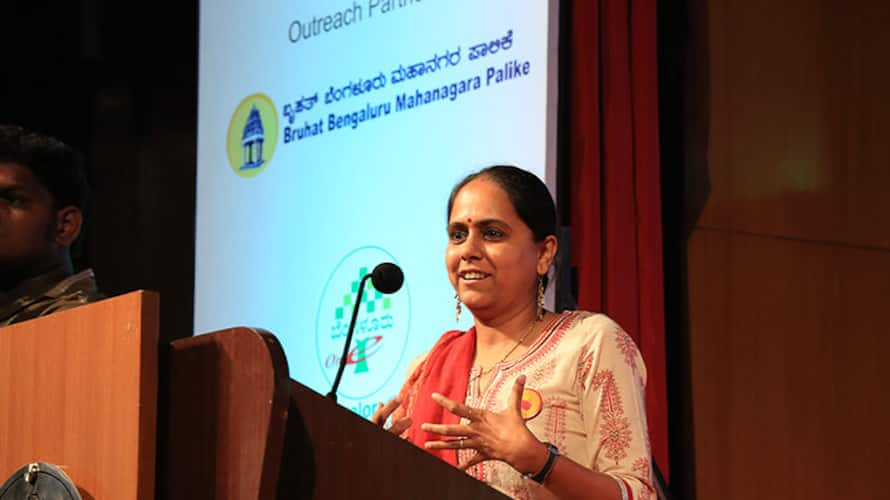 "If you had to gift something to a visually impaired person, what would it be?", asks Bengaluru's Prarthana Kaul.

A braille book is likely to be your immediate response. However, how many of us have given this a thought and tried to figure if there is anything more we can gift these special souls? 
Probably only a handful have. One among them is Prarthana. Her e-commerce platform GiftAbled.com is a unique venture that provides a wide range of gifting options for the differently abled and by the differently abled. 

The birth of the idea can be traced to an event attended by Prarthana's husband, Prateek Kaul. "Couple of year ago, my better half had an event with around 20 visually impaired children in his office and he wanted to buy some gifts for them. Our first thought was to buy musical instruments. However, when we pondered on the idea it dawned on us that just because a person is blind, it does not mean he or should would like musical instruments! This thought made us realise how ignorant the society is and something needs to be done to close this glaring gap," says the Namma Bengaluru Awards 2015 winner.

Formed in 2013, Prarthana's GiftAbled.com has a wide-range of products that have been created keeping the specially-abled people in mind. From chessboards and braille cards to tactile books and word blocks – the platform's offerings are spell-bounding. 

Till date, GiftAbled has touched the lives of over 1,500 differently abled people and has over 600 volunteers. 

The platform has also gained popularity for offering a host of products specially crafted by the specially-abled people. 

"We offer a mix of products like candles, jute bags, paper bags, terracotta earrings, fridge magnets etc. all made by special artists with disabilities. We market such products on our platform as well as through social media and ensure that the profits earned finds its way back to the pockets of those deserving artists."

To live in a sensitised society is Prarthana's ultimate aim. "GiftAbled is an ecosystem of like-minded individuals wherein we are striving to create a disabled friendly society. With the help of my team, we hope to spread awareness among as many people as possible," she adds.

Not just Bengaluru, but the entire world needs such extraordinary individuals to come forth and make life better for those in distress. One Prarthana cannot go to hundred places. However, if 100 people come forward and do their bit to spread hope and smiles in the society, the world will surely become a better place to live in.

Bengaluru has been gifted with more such remarkable heroes, whose stories are yet to be heard. Help the city unearth such gems by nominating those you believe deserves to be honoured, recognised and celebrated. Nominate them for the Namma Bengaluru Awards 2016 NOW:
 
Last Updated Mar 31, 2018, 7:02 PM IST