Bengaluru airport construction becomes menace to farmers; leaves them in dust bowl
Farmers from ten villages around the Kempegowda International Airport have complaints. But Bettakote is the most affected as it is the closest to the airport, said an official from Bettakote gram panchayat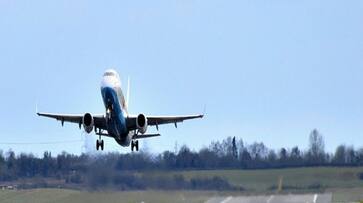 Bengaluru: The construction work of Terminal II at Kempegowda International Airport (KIA) has been taking place since three years. Trucks and heavy machinery started excavating mud in the process. Now the aircraft fly past a 40-foot high mound of excavated mud leading to a dust storm, which descends on the farmlands of the Bettakote village.
TV Shivakumar, who manages three acres of mulberry cultivation with his brother near the airport reportedly said that on bad days, they cannot even see the person who is standing a few feet away. He said that it is impossible to do agriculture amidst all the dust.
Farmers from ten villages around the airport have complaints. But Bettakote is the most affected as it is the closest to the airport, said an official from Bettakote gram panchayat (GP).
Officials from KIA and Bettakotte GP agreed upon a slew of mitigations after 200 farmers squatted in front of the GP last week. A report on crop loss is expected to be completed within a fortnight.
A spokesperson from Bengaluru International Airport Limited reportedly said that they are aware of the issues faced by the farmers and are working with the community to resolve them. He said that in a massive infrastructure project as this, problems are bound to happen and winds whip up dust in this season as there are large open spaces.
Asianet Newsable had reported earlier in June about Rs 13,000 crore infrastructure development plan that is in place for Kempegowda International Airport. This includes a 'Terminal in a Garden' design. To ensure a smooth expansion process, the airport will have to translocate several plants and trees.
Read full report here: Translocating to preserving: KIA to move 7,095 trees
Last Updated Jul 13, 2019, 7:24 PM IST