12 trafficked bonded labourers rescued from sericulture units in Chikkaballapur
12 trafficked bonded labourers were rescued from sericulture units in Chikkaballapur The victims were confined for up to 10 years in the factory and the women particularly had no access to the outside world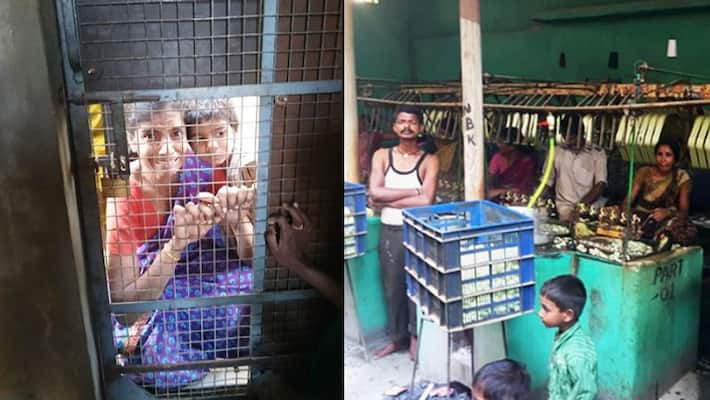 Bengaluru:  Twelve bonded labourers were rescued from two sericulture units in Chikkaballapur on 21st February, around 60 km from Bengaluru, by the Chikkaballapur District Administration, the Sidlaghatta town Police and the Labour Department. The two sericulture units belonging to two brothers were close to each other and near the Sidlaghatta town Police Station.
Two FIRs have been registered against the owners at the Sidlaghatta Town Police Station. The police have invoked several sections of the Bonded Labour System (Abolition) Act, 1976, section 370 of the Indian Penal Code (IPC) and sections of the Child Labour (Prohibition and Regulation) Act, 1986.
Ajith Kumar Rai, Tahsildar of Sidlaghatta led the rescue of these bonded labourers. After the rescue, he said, "Wherever there are sericulture units, this issue of bonded labour is prevalent. It's a tragedy that the labourers, in this case, have been treated so badly. When employers hire labourers they need to pay them according to the Minimum Wages Act of Karnataka. I hope this case will create awareness among other employers who commit this type of crime. I have spoken to the Police and our officials and we will conduct a drive in the coming days to check for bonded labour and we will take immediate action if any more cases are found." 
The issue came to light when two labourers escaped from one of the units earlier. Seven people hailing from Bengaluru Urban & Rural were rescued from the first factory and five people hailing from Ramanagara were rescued from the second factory. In the first factory, Vivek, a 26-year-old worker spent 10 years in bondage working to pay off a debt of Rs 40,000 given to his parents 10 years ago. His parents also worked at the factory for four years till his father died and his mother was allowed to leave because she was diagnosed with cancer.
Thereafter the son had to take full responsibility for the debt. The factory owner himself got him married to a co-worker. His wife and brother-in-law have spent seven years in bondage working at the same factory. The couple has two children, aged 5 and 3 who were not working. Apart from this family, a mother and son aged 38 and 19, who had spent five years in bondage at the factory, were also rescued.
Vivek said that he and his family were never allowed to leave the factory together and he could only go out for 10-15 minutes after the day's work to buy provisions. His wife was never allowed to leave the factory for 7 years except for the time when the owner took them out to the government hospital for her deliveries. They had to work continuously from 6 am to 7 pm, 6 days a week and could only take a short break for lunch.
Vivek who had several injury marks, also alleged that they were repeatedly physically assaulted by the owner and his wife if they asked for leave or were sick and could not work properly. They were only paid Rs 1,000 a week for the 3 of them that is Vivek, his wife and brother-in-law, which is only Rs 55 per person per day. They were also not given any food and had to buy provisions with this meagre wage. They were only given one small room next to the factory to live.
In the second factory, a woman, Chanda from Magadi and her 4-year-old son spent 6 months in bondage after she had taken an advance of Rs. 60,000. Chanda stated that she was not given any wages but was given two meals a day. She complained that she was given water to bathe only once a month and said that her son and she developed a skin disease from working in the sericulture unit and for not being able to bathe.
"Two weeks ago I tried to hang myself because I thought nobody will ever save me and my skin was itching so badly for so many months," Chanda said.
The owner's wife saw me trying to commit suicide and stopped me and it was only then that they took me to the hospital. I had asked them to take me to the hospital for months together to treat my son and myself for the skin allergies but they would only shout at me," she added.
She also said that she had managed to escape once but was caught outside the factory and beaten up badly by the owner and his wife. Apart from her, another woman and her 14-year-old son were working in the factory as bonded labourers for one month. Another bonded labouer who had been working there for 10 days, was also rescued.
In both the sericulture units, all the labourers rescued were trafficked by the owners themselves or by an agent. They were promised good wages and living conditions and brought to the units. In Karnataka, the minimum wages for a sericulture unit worker is Rs 316.98 per day, for 8 hours of work, but these workers were paid a mere fraction of that, if at all. The 9 working adults will be given Release Certificates by the Chikkaballapur District Administration declaring them as rescued bonded labourers and nullifying the advance or any agreement they may have had with the owners.
Last Updated Feb 23, 2019, 2:52 PM IST