Janmashtami 2023: Know how to observe fasting as per guidelines from Shastras to mark Lord Krishna's birthday
On Janmashtami, it is very important to observe vrata or fasting to seek the blessing of Supreme Lord Krishna. According to several puranas, observing one Janmashtami vrata are equivalent to observing two hundred million Ekadashis.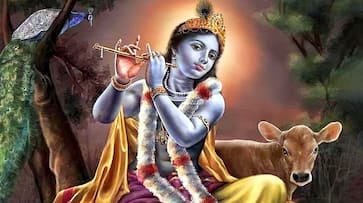 Krishna Janmashtami or Gokulashtami, the appearance day of Bhagavan Shree Krishna is celebrated during the Krishna Paksha of the Bhadrapada month. It was on this day in the Rohini Nakshatra that Lord Krishna appeared. Ashtami Tithi will begin on September 6 and end on September 7 this year. On September 7, Rohini Nakshatra will be in effect until 10:25 AM. 
The Bhavisyottara Purana states that the home where Krishna Janmashtami is celebrated would be free from any form of scarcity, argument, or dispute, as well as the death of a life partner. Additionally, it states that even if one fasts unintentionally on Krishna Janmashtami, Lord Krishna will still grant all of one's wishes. So what about someone who observes the vrata with love, commitment, and the right understanding? Such a devotee undoubtedly makes Lord Krishna happy, and He grants them residency on His spiritual planet.
Benefits: 
Brahma-vaivarta Purāṇa says,
ekādaśīnām viśantyah koṭyo yāh
Parikīrtitā tābhi janmāṣṭamī tulyāh
Observing one Janmashtami vratā can yield results that are equivalent to observing two hundred million Ekadashis.
Additionally, according to Skanda Pura, anyone who observes the Janmashtami vrat promises that they will remember Lord Krishna when they pass away and that all their efforts will be successful.
How to observe Janmashtami vrata?
1. On the day of Janmashtami, one should wake up early in the morning during the brahma-muhurta (one and half hour sunrise).
2. While waking up, it is recommended to chant the prayers for the spiritual master and then the Hare Krishna Mahamantra.
3.  Then one should perform achamana, danta-dhavana (brushing the teeth) and snana (taking bath for external cleanliness).
4. One should hear the glories of the Supreme Lord Shree Krishna from bona fide acharyas. 
5. It is better to fast till midnight and then break the fast with anukalpa (fruits, roots and milk). One should not eat grains, beans and other prohibited vegetables.
6. There are three types of fasting: 
Complete - One can observe complete fasting and abstain from grains, fruits, milk and water.
Water only- If one can't follow the above standard of fasting then you can take water.
Fruit & Milk- If one cannot follow the previous standard of fasting then one intake fruits and milk.
7. One should break the fast at midnight after the arati with non-grain prasadam only. Mahaprasadam offered to Lord Krishna as bhoga or naivedya can be honoured the next day.
On this day of Janmashtami, people who have the Deities of Lord Krishna in their homes, such as Baala Gopal, Laddu Gopal, Shalagrama Shila, or Shree-Radha-Krishna, can worship them. A person can do abhisheka (the ceremonial bathing of the Deities), sringara (clothing the Deities in new robes, flowers, and jewels), bhoga (giving a variety of food items), and rati. The recitation of hare Krishna kirtana or other fortunate mantras should take place in parallel with worshipping the Lord.
As Lord Krishna made his divine presence at midnight, perform a great arati to welcome the Lord and successfully conclude the vrata.
 
Last Updated Sep 6, 2023, 11:50 AM IST