Why are street vendors up in arms against Brand Bengaluru?
Street vendors in Bengaluru stage a protest against the Bruhat Bengaluru Mahanagara Palike (BBMP) officials, accusing them of misusing the 'Brand Bengaluru' to force vendors off the streets. Farmers and vendors expressed outrage and demanded ID cards for vendors. Deputy Chief Minister D K Shivakumar promised swift action to address the issue.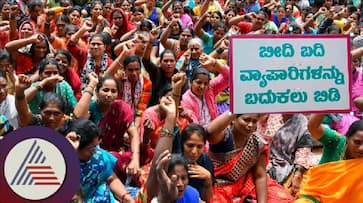 'Brand Bengaluru is just a gimmick and the Bruhat Bengaluru Mahanagara Palike (BBMP) officials are misusing it to force out the street vendors', said street vendors who staged a protest, accusing the BBMP of forcing them out of the street.
In a protest led by Karnataka Farmers and Traders Union and Indian Service Committee, thousands of farmers and vendors walked to the Freedom Park on Monday and expressed outrage against BBMP, with utensils in their hands.

Have a solution for Bengaluru's problems? Here's where you share it
"The BBMP officials are behaving like dictators and forcing the vendors out of the paths. Most of the vendors depend on the daily wages through which they lead their lives. This is just a symbolic protest, if they do not stop their voyage, we will protest with huge numbers on Aug 14, at the KPCC office," warned the protestors at Freedom Park. 
Union President Srinivas stated that hundreds of families lose their homes if they are forced to stop selling on the streets, he also demanded the authority to provide ID cards for the vendors.
DKS responds
Meanwhile, responding to the protest, Deputy Chief Minister D K Shivakumar said, "The street vendors are forced out just to make way for the people on footpaths. We will take swift action and provide a relevant solution to those affected by the decision".
Joint front: BJP, JD(S) combine efforts to tackle NICE project's 'irregularities' in Karnataka
He also stated that this action of BBMP was a reaction to the thousands of complaints received against the street vendors, who had acquired the footpath for their daily business and created obstacles for those using the footpath. "We are not against the street vendors. We will provide alternative solutions to them," said DKS, while speaking in an event at Jnanjyoti Hall.
"BBMP officials cannot speak to the media regarding the orders, but they can express opinions about the issues of Bengaluru. They cannot speak about the rules and regulations laid down by the government. I have ordered to take swift action to the public issues," DKS added.
Last Updated Aug 1, 2023, 10:53 AM IST