Who is Chaitra Kundapura, the controversial right-wing activist in Karnataka government's crosshairs?
Chaitra Kundapura, a Hindu activist known for her controversial statements against the minority community, made headlines when she was arrested recently over allegations of a seven-crore deal, promising a BJP MLA ticket during the previous assembly elections. Let us know more about her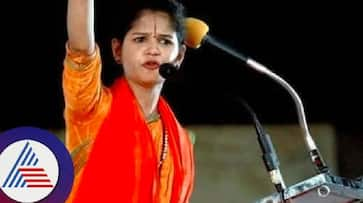 Chaitra's Rise to Fame
Chaitra Kundapura first gained widespread attention in 2018 when she clashed with Congress workers in Udupi city during a Bharat Bandh protest. 
Her lone stand against the Congress garnered significant social media attention, including a retweet from Union Minister, who praised her as a 'daring girl.' Chaitra's vocal pro-Modi stance and anti-Congress rhetoric further increased her visibility. 
MLA ticket cheating case: Chaitra Kundapura, three others arrested in Rs 7 crore scam in Udupi
Hate Speech Controversy
Chaitra's notoriety also stemmed from her inflammatory speeches, primarily targeting the minority community and promoting Hinduism. 
During her campaign for BJP candidate Parana Munavalli in the Gangavati assembly constituency of Koppal district, she made communal hate speeches against Congress candidate Iqbal Ansari and the Muslim community. This led to the registration of multiple hate speech cases against her.
Controversial Five-Crore Deal
Chaitra Kundapura's recent arrest centers around allegations of a massive seven-crore deal involving the promise of securing a BJP MLA ticket. A businessman invested crores of rupees with the expectation of receiving the coveted political ticket. However, it later transpired that Chaitra was unable to deliver on her promise, leading to her arrest by the CCB police.
Swamiji, the third accused in the Chaitra Kundapura case, played a significant role in the unfolding events. He joined forces with Chaitra but is currently absconding. Swamiji's involvement has raised questions about the financial dealings and contacts related to this case. It is believed that he is attempting to secure bail while evading authorities in Mysuru.
Last Updated Sep 15, 2023, 12:21 PM IST