Water release to TN: KRS water level falls to 100 feet, Karnataka worried
Karnataka's KRS reservoir faces a severe water shortage, with continuous releases to Tamil Nadu causing concerns about drinking water availability. Hemavati reservoir transfers water to KRS, but it risks a shortage. KRS is well below its capacity, and residents hope for rainfall to replenish it.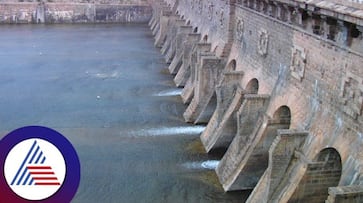 Karnataka's KRS reservoir is facing a severe water shortage, with the water level dropping by a significant 100 feet due to continuous water release to Tamil Nadu. In the past two weeks alone, around 13 TMC (thousand million cubic feet) of water has been released, and this has caused worries about the availability of drinking water in the near future.
The Cauvery Water Management Authority has ordered a daily release of 5,000 cusecs of water from the KRS reservoir, which has raised concerns about a potential water crisis in the coming days.

Farmers union stage protest over water release: Urge govt action
To balance this, 1,000 cusecs of water are being transferred from the Hemavati reservoir in Hassan district to maintain KRS's water level. Hemavati, with a capacity of 37 TMC, currently holds 25 TMC of water. If there's no rainfall, Hassan may face a drinking water shortage, which is a major issue for the farmers dependent upon the Hemavathi reservoir. 

Karnataka to release Krishnarajasagara water to Tamil Nadu
Currently, the KRS reservoir is at a low level of 100.66 feet, well below its maximum capacity of 124.80 feet. While 1,628 cusecs of water enter the dam, an alarming 7,231 cusecs are being released into the river. As a result, water supply to all canals under the KRS dam area has been stopped.
The reservoir currently holds approximately 23.333 tmc of water, but the decision to continue water releases over the next 10-15 days could deplete more than 7 tmc of water from the dam. The situation is becoming critical, and residents are desperately expecting a huge amount of rainfall in the coming days so that it will at least fill their hopes of getting sufficient drinking water from the dam.
Last Updated Sep 1, 2023, 6:18 PM IST