Farmers union stage protest over water release: Urge govt action
Huchche Gowda, President of Karnataka State Farmers Association Green Sena, protested in Bannuru, expressing frustration over severe water shortages impacting local farmers. He criticized the government for allocating water to Tamil Nadu while Karnataka's farmers suffered and demanded immediate relief measures and canal clearing.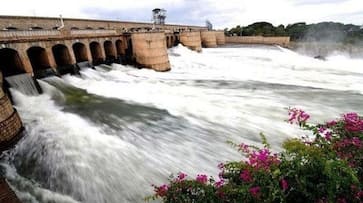 Huchche Gowda, president of the Karnataka State Farmers Association Green Sena, voiced his frustration at a roadblock protest organized by the Karnataka State Farmers Union Green Sena in Bannuru. He highlighted the severe water shortage that local farmers are experiencing, which is leading to the destruction of their crops. He questioned the government's decision to allocate water to Tamil Nadu while Karnataka's farmers struggled due to inadequate rainfall.
Expressing disappointment, Gowda criticized the government for not taking prompt action to address the water shortage crisis and not providing adequate support to the distressed farmers.

Mandya: Farmers stage overnight protest over release of Cauvery water to TN
He also raised concerns about the release of water to neighbouring Tamil Nadu without a comprehensive decision from the Cauvery Water Control Committee. He pointed out that crops like paddy, sugarcane, and cow fodder had already withered, and farmers were grappling with mounting bank loans.
Gowda called for immediate relief measures and urged the government to fill Heggere and clear the canals to ensure farmers have the water they urgently need.
Following the protest, farmers marched from Santhemala to Kaveri roundabout, where they blocked the road and presented their demands to Assistant Executive Engineer Manjunath.
Last Updated Sep 1, 2023, 6:08 PM IST