Power woes force Karnataka farmers to drop live crocodile at HESCOM office in Vijayapura
Drought-stricken farmers facing severe electricity shortages in Vijayapur district, India, expressed frustration by transporting a live crocodile to the HESCOM office. HESCOM officials, with the help of the forest department, safely relocated the crocodile to the river Krishna, addressing the farmers' unusual protest and their dire need for electricity to irrigate their fields.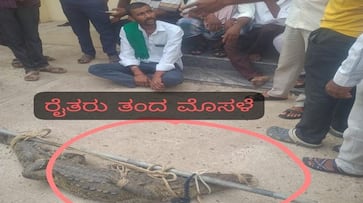 Farmers in a drought-stricken district are facing a grave concern - an acute shortage of electricity to power their essential pump sets. This scarcity has led to their crops withering away due to the lack of water. Growing increasingly frustrated and disheartened, one farmer resorted to an extraordinary measure to voice his discontent: he transported a live crocodile to the HESCOM office.
The circumstances have become dire for these farmers, who rely on electricity to irrigate their fields. Due to frequent power outages, they are often compelled to wait in their fields, uncertain of when they will receive the vital electricity needed to operate their pump sets.

Bengaluru protestors form human chain at MG Road seeking India's support to Palestine in Israel-Hamas conflict
This remarkable incident unfolded in the village of Ronihala situated in the Kolhara taluk of the Vijayapur district. One evening, a farmer stumbled upon a crocodile while attempting to water his field. Frustrated by the ongoing struggle for access to power, he decided to bring the reptile to the HESCOM office.

WATCH: Karnataka man smashes 68 coconuts on heads in 1 minute with nanchaku to set World Record
Upon the unexpected arrival of the crocodile, HESCOM staff understandably found themselves in an unusual situation. The farmers hoped that by bringing this unconventional "complaint" to the office, their grievances would finally gain attention.
In response, HESCOM officials swiftly reached out to the Basavana Bagewadi forest department for assistance. Initially met with resistance from the farmers, forest department officials successfully persuaded them to permit the safe relocation of the crocodile. The reptile was then released into the river Krishna.
Last Updated Oct 20, 2023, 10:28 AM IST