Maharani college accident: English professor's overspeeding car injures two students in Bengaluru
A serious accident at Bengaluru's Maharani College injured two students and a music teacher. A speeding vehicle driven by Professor Nagaraj collided with students and another car within the campus premises, leading to injuries and hospitalization.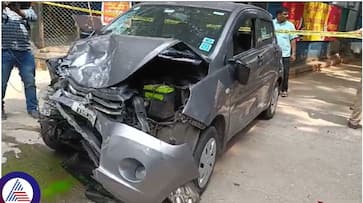 In a concerning incident that transpired on Saturday morning at Bengaluru's Maharani College, two students and a music teacher named Jyoti were involved in a severe accident. Among the casualties, B.Com student Ashwini suffered grave injuries and was swiftly sent to St. Martha's Hospital due to profuse bleeding and her critical condition.
The accident was caused by H. Nagaraj, identified as an English Professor, who was driving at high speed within the college campus premises. The incident took place despite the campus being a zone where students and teachers typically walk, necessitating slow driving.

Bengaluru: New BMTC bus shelter stolen near Vidhana Soudha, investigation underway

Professor Nagaraj's speeding vehicle collided with female students walking ahead, and subsequently, it collided with another slow-moving car, which, in turn, hit a tree and caused further injuries.
The accident occurred at around 9:45 a.m. on Saturday when the vehicle attempted a U-turn. Instead of applying the brakes while parking, the professor accidentally pressed the accelerator. As a result, two female students, Ashwini and Nandupriya, sustained injuries. Both injured individuals have been admitted to the hospital, according to North Traffic DCP Sachin Ghorpade.
Last Updated Oct 7, 2023, 12:18 PM IST