Karnataka: Why 10 female students in Dandeli cut their hands in one similar manner?
In Dandeli, Karnataka, 10 female class 9 students inexplicably cut their hands in a similar manner, possibly linked to video games. Parents and police got involved after vague explanations from the students, raising concerns among school officials. The headmistress initially didn't report it due to the students being minors. Police are investigating the incident.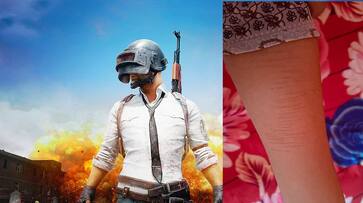 A bizarre incident occurred in Karnataka's Dandeli, where 10 female students of class 9, have cut their hands in a strange manner, occurred at Janata Vidyalaya in the city. Speculation on social media suggested that their behaviour might be linked to video games like PUBG.
The incident happened about four or five days ago, with parents initially unaware of the situation. However, on Friday, concerned parents visited the school and questioned the teachers. When inquired by the teachers, the students provided a series of vague reasons, such as claiming they were removing a thorn, responding to parental scolding, or reacting to a friend's pinching. The teachers advised them not to engage in such disputes. 

Pakistan's Seema Haider seeks mercy from President Droupadi Murmu, cites Vasudhaiva Kutumbakam and Adnan Sami
On Saturday, the issue came to the attention of the police and other parents, prompting them to visit the school and confer with the headmaster. Headmistress Bharti Gowda stated, "I informed the parents as soon as I learned about the students injuring their hands." Yet, the students remain reluctant to disclose the true reason behind their actions, offering only unclear responses, causing concern among school officials.

Bengaluru: Manufacture of counterfeit shoes under brand names like Nike, Puma; arrested
Dandeli Nagar police station PSI I.R. Gaddekara questioned why the headmistress did not report the incident to the police despite the unusual mass hand-injuring by the students. He mentioned that she didn't inform the police earlier because the students involved were minors. 
In the interest of the students, Nagar Police Station PSI I.R. Gaddekar, accompanied by his team, visited the school to gather information. Female police personnel were sent to the school to interview the students who had engaged in unusual hand-injuring behaviour.
Last Updated Sep 18, 2023, 3:55 PM IST