Bengaluru: Manufacture of counterfeit shoes under brand names like Nike, Puma; arrested
The Central Crime Branch (CCB) police in Bengaluru busted a counterfeit shoe manufacturing and sales network operating under famous sports brands like Puma and Nike. The factory in Cottonpet produced low-quality fake shoes sold at premium prices, with a seized value of over Rs 2 crore. The mastermind, Ganesh, was arrested, and the operation involved deceptive branding and distribution to smaller retail outlets.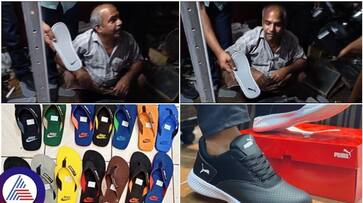 The Central Crime Branch (CCB) police in Bengaluru have busted a network involved in the manufacturing and sale of counterfeit slippers and shoes bearing the names of popular international sports brands like Puma and Nike. The illegal operation was discovered at a shoe factory located in the Cottonpet area, which serves as a major commercial hub in the city.
Acting on a complaint, the CCB police, along with the Economics Offense Wing, conducted a raid on the factory, which was producing slippers and shoes under the unauthorized branding of renowned sports labels. These fake products were of notably low quality but were being sold at premium prices, deceiving customers who believed they were purchasing genuine branded items.

#StopHindiImposition: Kannadigas start Twitter campaign against 'imposition of Hindi language'
The police operation resulted in the suspicion of the individuals responsible for this deceitful operation. The seized items, which are estimated to be worth more than Rs 2 crore, included a variety of stamps and tools used to imprint counterfeit logos on the footwear. The investigation revealed that the operation was carried out by individuals of North Indian origin.

Bengaluru Police nab B.Tech hacker behind multi-crore cyber heist on rewards websites
One individual identified as Ganesh, who hails from North India, was found to be the mastermind behind the illegal manufacturing and distribution of fake slippers and shoes under famous brand names. These counterfeit products were then supplied to smaller retail outlets. The operation involved creating cardboard boxes with branding from legitimate companies to further deceive buyers into thinking they were purchasing genuine, high-quality footwear.
The factory owner, Ganesh, has been taken into police custody, where he is currently being interrogated as part of the ongoing investigation.
Last Updated Sep 14, 2023, 3:55 PM IST