Karnataka: This village in Chikkamagaluru lacks ambulance service amidst state's 50th anniversary celebrations
Hinari village in Karnataka's Chikkamagaluru district lacks essential ambulance services and road infrastructure, leaving residents to transport the sick in sacks. Despite pleas and promises, authorities have not addressed the issue, and the situation worsens during the rainy season. This story highlights the disparity between political promises and the challenges faced by rural India, emphasizing the need for substantial improvements in remote areas.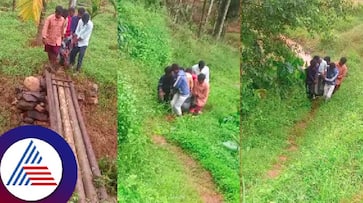 Hinari village, nestled in the scenic Chikkamagaluru district of Karnataka, is grappling with a severe lack of ambulance services and essential road infrastructure. Despite the Karnataka government's recent celebration of the state's 50th anniversary, many villagers are enduring difficult living conditions, with some even residing in makeshift shelters.
While it's common for people to call an ambulance with a simple phone call, the residents of Hinari village continue to transport the sick using sacks due to the absence of proper roads and infrastructure. This dire situation exposes the stark disparities experienced by the 36 families living here, as their pleas for help seem to have gone unanswered.

Why is Mullayanagiri closed for tourists on first week of November?
For essential services, the villagers only need to cover a mere one and a half kilometres, but they are forced to travel a gruelling 16 kilometres due to the lack of a suitable road. The available route involves navigating perilous terrain through coffee plantations and forests, fraught with stones and thorns. Furthermore, vehicles charge exorbitant fees, ranging from 1500 to 2000 rupees, making it unaffordable for many of the 300-400 residents. Consequently, they resort to carrying sick individuals in sacks for long distances, creating a heart-wrenching spectacle.
Despite receiving grants and numerous appeals over the years, the authorities have yet to address this pressing issue. The villagers' hardships are exacerbated during the rainy season, underlining the urgency of the situation. Residents express their disappointment as elected representatives who promised change during elections seem to forget their struggles after taking office.
Last Updated Nov 3, 2023, 9:33 AM IST