Why is Mullayanagiri closed for tourists on first week of November?
A ban on tourist visits to Mullayyanagiri and Dattapeeth areas in Chikkamagaluru is imposed for three days due to the Sri Ram Sena's Dattamala Abhiyaan. The ban is in effect from November 4th to 6th and includes various locations. Datta devotees will participate in the event, including Dattamalae, Maladharana ceremony, and other rituals and processions.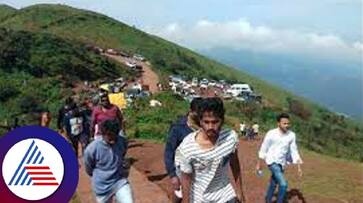 The district administration has imposed a ban on tourists visiting the Mullayyanagiri and Dattapeeth areas for three days as a precautionary measure in light of Sri Ram Sena's Dattamala Abhiyaan scheduled for one week starting from the 30th of November in Chikkamagaluru.
The ban includes Bababudan Giri Swami Dargah of Inam Dattatreya in Chikkamagaluru Taluk and will be in effect from 6 a.m. on November 4th to 10 a.m. on November 6th. During this period, entry to Dattapeeth, Sitalayyanagiri, Mullayanagiri, Honnammanahalla, Manikyadhara, and Gaalikere will be prohibited.

Rare and beautiful serpent 'Bamboo Pit Viper' discovered in Karnataka's Chikkamagaluru
The restriction pertains to the Mullayyanagiri section during the first weekend of November. The Deputy Commissioner and Superintendent of Police have visited and inspected the area in preparation for the Dattamala Abhiyan, which will take place from October 30 to November 5th.

Tigers mating at Bhadra Wildlife Sanctuary in Chikkamagaluru: Viral video (WATCH)
Datta devotees from across the state will don Dattamalae on the 30th of November. On the same day, a Maladharana ceremony will be held at Shankara Math in Chikkamagaluru. The State President of Shri Ram Sena, Gangadhar Kulkarni, announced that Datta Dipotsava will take place on November 2nd, followed by Padi collection on November 4th.
A procession is scheduled for November 5th, and after a religious gathering at the same location, devotees will visit the Datta Peetha. Homa Havan rituals and Prasadam distribution will also be part of the event.
Last Updated Oct 27, 2023, 3:00 PM IST