Bengaluru's dosa dilemma: Viral video shows concerns over excessive use of ghee in THIS cafe
A viral video of a Bengaluru eatery's dosa-making process stirred controversy. The chef's unconventional method, using a broom to clean the tawa and excessive ghee, drew criticism. Netizens raised health concerns, dubbing it 'cholesterol-packed' and 'not high-tech,' leading to intense public scrutiny and disdain in the comments.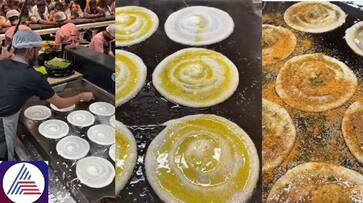 A Bengaluru eatery's dosa-making process has stirred controversy, triggering health concerns among netizens after a video showcasing their culinary techniques went viral. The video, shared by 'Thefoodiebae' on Facebook, spotlighted what's touted as the 'most high-tech dosa' but has garnered attention for all the wrong reasons.
In the footage, a chef from the renowned Rameshwaram cafe can be seen employing an unconventional method. The chef first moistens the tawa with water before startlingly using a broom to clean the cooking surface. Subsequently, he proceeds to pour enormous amounts of ghee onto the dosas, accompanied by the customary Aloo Masala and spices.

Bengaluru traffic jam holds Ferraris hostage: Thousands of HP powerless (WATCH)
Dosas, a beloved South Indian delicacy, have earned immense popularity across diverse dining establishments. However, this particular dosa-making method has sparked widespread criticism. Netizens expressed disdain over the excessive use of ghee and the unorthodox cleaning practice witnessed in the viral video.
With 15 million views and 111K likes, the video's comment section became a battleground for disapproval. Critics highlighted concerns about the broom's use for cleaning the tawa and raised eyebrows over the excessive ghee or oil application during the dosa preparation.
People started pouring their criticism through the comment section. "An oily heart disease dosa parading as high-tech." "More like ghee-fried snacks than dosas." "Overhyped! Bengaluru boasts better dosa places than this." "Hi-tech? Bangaloreans fall for the marketing, but this isn't high-tech."

How a ragpicker in Bengaluru got lucky by finding USD 3 million in trashbin
"Supposedly 'Hi-Tech' dosa served with jadoo (broom) cleaning and a generous helping of oil. Nothing high-tech about this."
The public scrutiny further intensified over concerns about health repercussions due to the excessive use of ghee, prompting users to dub it as 'tasty yet cholesterol-packed' and 'serving heart diseases on a plate.
Last Updated Nov 15, 2023, 1:09 PM IST