Bengaluru Metro engineers fix Green Line; trains to resume shortly
A metro maintenance vehicle in Bengaluru, the Road Co. Railway, was successfully lifted after a 12-hour operation. The specialized vehicle, essential for addressing metro train issues, broke down during maintenance but was not derailed. The incident disrupted passenger flow temporarily, emphasizing the importance of maintenance and testing.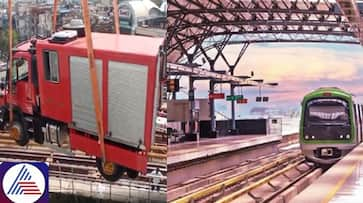 After an intense and lengthy 12-hour operation, a metro maintenance vehicle, known as the Road Co. Railway, has been successfully lifted. This specialized vehicle is vital for addressing issues when a metro train experiences difficulties on the tracks. However, it encountered a breakdown last night while performing maintenance work near Rajajinagar metro station along the green line.
There was initial uncertainty about whether the train had derailed, but subsequent investigations revealed that it was not a derailment. Nevertheless, this incident disrupted the flow of passengers and led to a temporary single-line operation.

Bengaluru: Metro service along Green Line disrupted; check details

Yashwant Chavan, the Senior Public Relations Officer of BMRCL (Bengaluru Metro Rail Corporation Limited), provided insights into the situation. He explained that every metro depot is equipped with a Road Co. Railway, a crucial resource for resolving metro train issues. These vehicles are equipped with specialized metro repair tools.

Operations and Maintenance Executive Director Shankar assured that metro traffic would return to its regular schedule within a short period of time. He confirmed that the track was now clear, and the problem was successfully resolved.
Chavan clarified that the breakdown occurred due to the train's wheel getting stuck, and it was not a case of derailment. The jammed position of the train between the tire and the wheel needed a meticulous and lengthy operation to rectify.

Bengaluru: Here's how you can book auto through Metro Mitra app at Jayanagar metro
Metro train services on the green route have been reinstated following a temporary suspension by the Bengaluru Metro Rail Corporation Limited (BMRCL) due to a derailment incident involving a maintenance vehicle. The incident has now been resolved, with the affected train successfully cleared from the tracks.
Normal metro services resumed at 3:40 p.m., with trains operating on the green route at regular intervals, typically every ten minutes during non-peak hours. The BMRCL took swift action to address the derailment issue, ensuring the swift restoration of metro services for the convenience of commuters.
Last Updated Oct 3, 2023, 4:25 PM IST