Bengaluru: Metro service along Green Line disrupted; check details
A re-rail vehicle derailment has disrupted Green Line metro services in Bengaluru, impacting the Nagasandra to Silk Institute stretch. Single-line operations are in place between Yeshwanthpur and Mantri Square Sampige Road stations to minimize passenger inconvenience. Delays are expected until noon.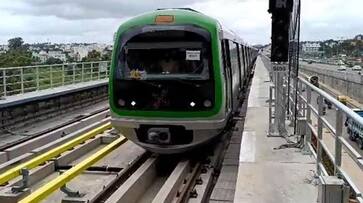 An incident involving the derailment of a re-rail vehicle has led to substantial disruptions in the Green Line metro services. Re-rail vehicles are essential for addressing technical issues in metro trains. This incident, occurring at the curve of Rajajinagar station, has caused significant traffic difficulties along the railway track stretching from Nagasandra to Silk Institute. 
Namma Metro commuters are advised that train services on the Green Line are currently limited to specific stations due to a technical problem at Rajajinagar Metro Station. The affected routes include service between Nagasandra to Yeshwanthpur and Mantri Square - Sampige Road to Silk Institute Metro stations. The Yeshwantpur metro station is currently closed for passengers amidst the re-railing incident. 

Bengaluru metro: Purple line from Whitefield to Challaghatta may start from October 6
In response to this issue, single-line operations have been implemented between Yeshwanthpur and Mantri Square Sampige Road metro stations. This measure is being taken to minimize the inconvenience caused to metro passengers.

Bengaluru: Woman, two-year-old child killed after rented car rams into truck on NICE Road

The train derailed during testing at the Rajajinagar curve. To resolve the issue, a crane will be used to lift the train around 12:30 p.m., with the problem expected to be resolved by 1 p.m., according to Metro MD Anjum Parvez. Metro engineers have been tirelessly attempting to re-track the train for the past eight hours without success, leading to the decision to use a crane for the re-railing process.
Currently, trains on this route are operating in a single direction, leading to substantial inconveniences for passengers. The struggle to reposition the re-rail vehicle on the track is causing delays, and these disruptions are expected to persist until noon today. The Bengaluru Metro Rail Corporation Limited (BMRCL) has issued an appeal to all metro commuters to cooperate and remain patient during this period of service interruption.
 
Last Updated Oct 3, 2023, 11:14 AM IST