Bengaluru: Accident claims two lives on Hosur road as truck collides with pedestrians
Two women lost their lives while crossing Hosuru road in Bengaluru near Narayana Hrudayalaya Hospital, despite a skywalk's presence. The tragic accident highlights the city's road safety issues, as Bengaluru ranked fourth in road accidents among major Indian cities in 2022. The incident emphasizes the importance of using skywalks and pedestrian safety measures on busy highways.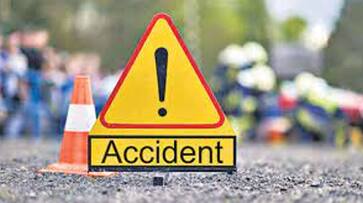 Two lives were lost while crossing the road, despite there being a skywalker, on Hosuru road at Bommasandra. They were struck by a truck while attempting to cross the road near the Narayana Hrudayalaya Hospital. The victims, two women, met with a horrific accident in front of the hospital.
The two women who lost their lives are believed to have come from Whitefield. The unfortunate collision transpired as the women were crossing the road on their way to the hospital. Despite the presence of a skywalk, which is designed to ensure pedestrian safety, the lack of an escalator or pedestrian crossing signal led to this tragic accident.

Bengaluru ranks fourth in India for road accidents, over 770 deaths in 2022
The area falls under the jurisdiction of the Hebbagodi Police Station near the Narayana Hrudayalaya Hospital and BTL College. It serves as a route for numerous workers commuting to the industries in Bommasandra. Thousands of individuals cross this road every day. However, it appears that these women who died used the road instead of the skywalk present, which led to the tragic mishappening.
Local authorities, including the Hebbagodi police, swiftly arrived at the scene to investigate and assess the situation. 

Bengaluru: Mother and child killed in multiple vehicle pileup on Horamavu ORR
Bengaluru ranked 4th in India for road accidents
Bengaluru ranks fourth in road accidents among major Indian cities, with 3,822 accidents and 772 fatalities in 2022, an 18% increase from the previous year. According to the 'Road Accidents in India-2022' report released by the Union Ministry of Road Transport and Highways, 3,822 road accidents occurred in the city in 2022, resulting in the tragic loss of 772 lives. Pedestrians were also at significant risk, with 1,042 road accidents involving them, resulting in 247 fatalities. Two-wheeler drivers contributed to 42 accidents, causing 8 deaths, while four-wheeler drivers were responsible for 578 accidents, leading to 51 fatalities. Lorry drivers caused 69 accidents, claiming the lives of 7 people.
This incident serves a stark reminder for the people who ignore the usage of skywalks, especially on the busy highways of Bengaluru. The presence of a skywalk is made for the safety of the pedestrians to avoid such accidents.
Last Updated Nov 2, 2023, 12:29 PM IST