Bengaluru ranks fourth in India for road accidents, over 770 deaths in 2022
Bengaluru ranks fourth in road accidents among major Indian cities, with 3,822 accidents and 772 fatalities in 2022, an 18% increase from the previous year. Excessive speeding was a significant factor, contributing to 3,528 accidents and 711 deaths. Pedestrians were also at risk, with 1,042 accidents and 247 fatalities. The city ranked second in accidents without traffic control, with 282 fatalities.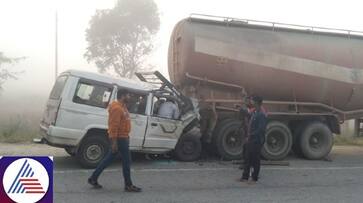 Bengaluru has earned the unfortunate distinction of being the fourth city in India with the highest number of road accidents in the past year. According to the 'Road Accidents in India-2022' report released by the Union Ministry of Road Transport and Highways, 3,822 road accidents occurred in the city in 2022, resulting in the tragic loss of 772 lives.
This alarming revelation is based on road accident data from metropolitan cities with a population of over 10 lakh (1 million). The national capital, New Delhi, claimed the top spot as the most accident-prone city among major metropolitan areas, recording a staggering 5,652 accidents. Across 50 metropolitan cities with populations exceeding 10 lakhs, a total of 76,752 accidents were reported in 2022, leading to 17,089 fatalities and 69,052 injuries.

Karnataka ranks 5th in India for road accidents: Over 50000 people died because they did not wear helmets
In Bengaluru, the 772 lives lost due to road accidents saw an 18% increase compared to the previous year, earning the city the unfortunate second place after Delhi in the list of major cities. Additionally, 3,189 individuals sustained injuries in these accidents, ranking the city sixth in terms of accident-related injuries.
One of the major contributing factors to road accidents in Bengaluru is excessive speeding, with 3,528 accidents occurring due to this issue. This placed the city second in the country for accidents caused by speeding, with 711 people losing their lives, marking the highest number of speeding-related fatalities in the country.

Bengaluru mishap: Collision claims lives of BSF cook, youtuber in Yelahanka
Pedestrians were also at significant risk, with 1,042 road accidents involving them, resulting in 247 fatalities. Two-wheeler drivers contributed to 42 accidents, causing 8 deaths, while four-wheeler drivers were responsible for 578 accidents, leading to 51 fatalities. Lorry drivers caused 69 accidents, claiming the lives of 7 people.
Driving under the influence of alcohol and intoxication resulted in 42 road accidents and 15 fatalities. Driving against the flow of traffic led to 30 accidents and 3 deaths. Signal jumping caused 14 accidents and resulted in 4 fatalities.

Bengaluru: Two killed in seperate BMTC bus accidents; check details
Furthermore, Bengaluru reported 1,401 road accidents where traffic signals and police control were absent, ranking the city fourth in the country. Out of these accidents, 282 people lost their lives, securing the city's second position in terms of fatalities in such incidents.
The top five cities with the highest number of road accidents are as follows:
1. New Delhi - 5,652 accidents
2. Indore - 4,680 accidents
3. Jabalpur - 4,046 accidents
4. Bengaluru - 3,822 accidents
5. Chennai - 3,452 accidents
Last Updated Nov 2, 2023, 10:27 AM IST