Revealed: Pay cut, lay-offs – What led to situation in media houses across India amid coronavirus crisis
Print media across the country are turning towards paid journalism and that has been the trend to survive in the economy. Print is the hardest hit, due to dwindling ads and disruption in circulation, with myths and paranoia about coronavirus spreading through newspapers only adding to the problem.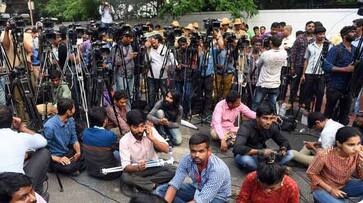 Bengaluru: India's dynamic news media industry, among the few thriving in the world, with its crores of readers and viewers has been hit hard by the unprecedented economic standstill brought on by the COVID-19 pandemic.
In view of the large number of layoffs and salary cuts announced by several media organisations, the National Alliance of Journalists (NAJ) and Delhi Union of Journalists (DUJ) have accused media owners of using the nationwide lockdown announced to combat the spread of COVID-19 as "an excuse for retrenchment and arbitrary pay cuts".
In a statement, they said the novel coronavirus was "a national crisis and the pain of dealing with this crisis must be accepted by media companies and their shareholders, not passed on to vulnerable employees."
The financial health of many media houses across the country is not in good shape and this has led to many vulnerable employees bearing the brunt instead of the media companies and their shareholders.
Revealing how the hierarchy on the platform works, Soumyadipta, a journalist said, a friend of his working in a Left portal told him that there is panic at her office as money and funds have dried up.
This is a fresh and more severe blow as sections of the industry had already been hurt by India's economic slowdown. Pay to read content has been the most recent trend but all media houses aren't opting for this.
Digital subscriptions have grown particularly quickly, thanks to the easy access of the internet. Contributors, patrons and members have been avoiding to further dwell into the matter of funds, leaving the companies in a lurch.
Moreover, many companies are refusing to associate themselves with the "Left portal" because of their blatant "anti-national content".
According to reports, media owners are claiming that they are severely affected by the lockdown, that circulations, page views and advertising have fallen and therefore they are resorting to huge salary cuts.
However, it has been the vulnerable employees taking pay cuts in their mere salary while top editors are freed from these measures, claims Soumyadipta.
The coronavirus crisis has engulfed even top media houses, which have resorted to pay cuts starting from April. In 2016 the media industry misused the demonetisation decision to enforce mass retrenchments, and today some media companies are threatening to turn the lockdown into a lockout.
Last Updated May 10, 2020, 11:43 AM IST