Rare naxal encounter at Karnataka-Kerala border injures one after years of inactivity
Naxal resurgence near Karnataka-Kerala border sparks concern as gunfire erupts during a border breach attempt. Kodagu police heighten security at Kutta checkpost and surrounding areas. Meanwhile, tribal families in Kodagu's Bendebetta Hadi struggle with incomplete government-sanctioned houses, facing delays and insufficient infrastructure, highlighting administrative neglect in providing adequate housing.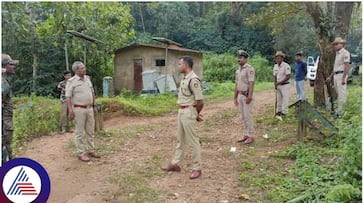 After a decade of relative quiet, the resurgence of Naxal activity has sparked concern on the edge of Karnataka, particularly along the Karnataka-Kerala border. Naxals, reportedly active in Kerala, engaged in gunfire with the police while attempting to breach the Karnataka border.
A shootout ensued between the Naxals and the police along the Kodagu-Kerala border, resulting in an injury to one Naxal. The incident unfolded near Waynadu in Kerala. There are apprehensions that Naxalites entrenched in Kerala's forests might infiltrate Karnataka's border district of Kodagu.

Kerala: Two Maoists detained after gun battle in Wayanad
Responding to the escalated threat, Kodagu police are on high alert. Additional security measures have been implemented near the Kutta checkpost. Superintendent of Police K. Ramarajan personally inspected the Kutta check post in the wake of the incident.
To manage the situation, blockades have been imposed in Kutta, Parakatageri, Birunani, and Teralu. The Deputy Superintendent of Police from Virajpet and a dedicated team have stationed themselves in the area. The District Superintendent of Police has urged locals to report any suspicious individuals and instructed vigilance at medical shops and hospitals, as an injured Naxal might seek medical aid.
Housework lay incomplete for tribals of Kodagu
The tribals of the Bendebetta tribe in Kushalanagar taluk of Kodagu district continue to face housing issues. Despite government schemes aimed at providing improved housing for tribal communities, negligence by authorities has led to unfinished brick houses lacking essential amenities.

Chhattisgarh Polls 2023: Maoists clash with security forces near Banda polling station, no casualties reported
About 18 families in Bendebetta Hadi were sanctioned houses three years ago, yet these structures remain incomplete without windows, doors, or proper infrastructure. Delays in the completion of these houses have left tribal families in limbo, unable to live comfortably in these unfinished dwellings.
Chandra, who undertook the construction work, received partial payments at different stages of completion but failed to finish the project. This situation highlights the plight of tribal families awaiting suitable housing due to administrative lapses.
Last Updated Nov 14, 2023, 2:04 PM IST