Priest welcomes burqa-clad corona warrior, who lends helping hand in sanitising temple
Lady in burqa was welcomed to the temple priest without any hesitation. Imrana Saifi is helping in sanitising temples, mosques and gurdwaras.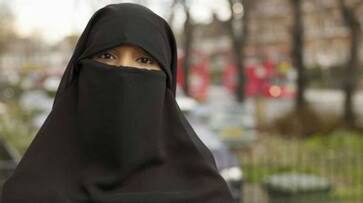 New Delhi: Mother of three Imrana Saifi, who is observing day-long fast every day in this holy month of Ramadan, does not fail to do her duty with the sanitiser tank provided by the local residential welfare association. The 32-year-old woman has taken up the responsibility to sanitise temples, mosques and gurdwaras.
The priest of the temple also welcomed the woman in burqa without any hesitation in North Delhi's Nehru Vihar. She has made her own team of "corona warriors" with three other women from the area who are now working amid the COVID-19 outbreak.
According to reports, Imrana's husband Niyamat Ali is a plumber by profession and Imrana has to work as well to make ends meet. But due to coronavirus lockdown, the duo is out of work. This has put them in a difficult situation to survive with three children.
So she opted to do her little for her family and the nation by sanitising these places.
Last Updated May 8, 2020, 3:56 PM IST