Mahua Moitra storms out of ethics panel meeting, says 'asked filthy questions' (WATCH)
Opposition parties MPs, including Trinamool Congress leader Mahua Moitra and BSP MP Danish Ali, walked out from the Parliament Ethics Committee meeting on Thursday. Mahua Moitra, who was asked to depose before the Parliament Ethics Committee in connection with allegations of cash-for-query, accused the panel of asking "filthy questions".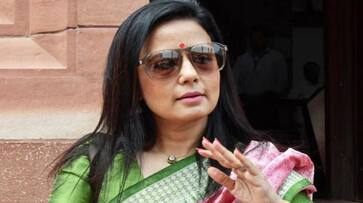 Trinamool Congress MP Mahua Moitra stormed out of the meeting after appearing before the Lok Sabha Ethics Committee on Thursday on the purported "cash-for-query" issue. While leaving the meeting, Moitra said that the panel asked "filthy questions".
"What kind of meeting was this? They are asking all kinds of filthy questions," Moitra told reporters as she and the Opposition MPs stormed out of the room. 
Janata Dal (United) MP Giridhari Yadav, who was also present, said: "They asked personal questions to the Mahua Moitra. They do not have the right to ask personal questions, so we walked out."
Also Read | Telangana Election 2023: 'Kaleshwaram Project = KCR Family ATM,' tweets Rahul as he visits Medigadda Barrage
"Since Ethics Committee deemed it fit to release my summons to the media, I think it is important I too release my letter to the Committee before my hearing tomorrow," Moitra stated on Wednesday, sharing the letter, which was dated October 31 on X.
In the letter, Moitra promised to disprove the cash-for-query charge against her when she appears before the panel on November 2.
Following BJP MP Nishikant Dubey's letter to Lok Sabha Speaker Om Birla, Moitra has become involved in a political dispute. It is claimed that Moitra accepted payments from businessman Darshan Hiranandani in order to target the Adani Group.
Despite denying the claims of cash-for-query, Moitra acknowledged that she had provided businessman Darshan Hiranandani with her parliamentary login ID. Based on reports and supporting documentation from three ministries, the ethics committee called her in. Concerns over national security had been voiced by the BJP regarding the disclosure of her official login details.
Also Read | Explained: ED's options after Delhi CM Arvind Kejriwal skips summons in excise policy case
Last Updated Nov 2, 2023, 6:11 PM IST