Telangana Election 2023: 'Kaleshwaram Project = KCR Family ATM,' tweets Rahul as he visits Medigadda Barrage
Rahul Gandhi visited the Medigadda Barrage of the Kaleshwaram Lift Irrigation Project (KLIP) on Thursday. There, he noticed some cracks forming over the barrage pillars, which sparked debate about the project's quality and design. The BRS government had been bragging about the project as a mega project completed in record time.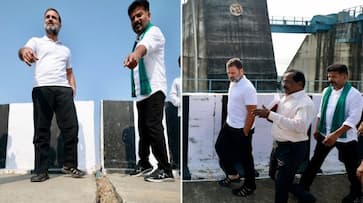 Congress leader Rahul Gandhi on Thursday visited the Medigadda barrage of Kaleswaram project in Telangana where damage allegedly occurred to the 'piers' of the barrage. Cracks have appeared in multiple pillars of the barrage due to shoddy construction, Gandhi alleged.
"Kaleshwaram Project = KCR Family ATM. I visited the Medigadda barrage, which is a part of the corruption-ridden Kaleshwaram Lift Irrigation Scheme in Telangana," he said on "X" (formerly Twitter). He further added, "Cracks have developed in multiple pillars because of shoddy construction with reports indicating that the pillars are sinking. KCR and his family are using the Kaleshwaram Project as their personal ATM to plunder the people of Telangana."
Also Read | Telangana Election 2023: BRS MLA grabs BJP candidate by throat during live TV debate | WATCH
Gandhi was accompanied by Telangana Pradesh Congress Committee (TPCC) president, A. Revanth Reddy, CLP leader Bhatti Vikramarka, Manthani MLA, D. Sreedhar Babu and MLC T. Jeevan Reddy. Before visiting the Medigadda barrage, Gandhi addressed a meeting of women in Ambatipally village. Rahul described Kaleshwaram as the biggest scam of KCR government. 
Earlier, after landing at the barrage site, he addressed a gathering of women at Ambatipalli near Medigadda Barrage and explained how corruption in the Kaleshwaram project had drained the resources of the state. Assuring that the Congress would come back and provide welfare schemes on the lines of the six guarantees assured by the Congress party.
Also Read | Telangana Election 2023: CM KCR says his BRS will 95-105 seats
Medigadda barrage has been in news following news of damage and leakage from six piers in the seventh block of the barrage. Piers from 16 to 21 were damaged, the officials said 
Last Updated Nov 2, 2023, 3:36 PM IST