Kerala News Today: Rain update: State to witness rainfall till September 7; yellow alert in various districts
Kerala News Today: Rain update: State to witness rainfall till September 7; yellow alert in various districts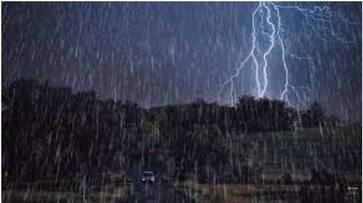 4.30 PM: Rain update: State to witness rainfall till September 7; yellow alert in various districts
The IMD has predicted heavy rainfall in Kerala till September 7 under the influence of a cyclonic circulation that lies over the Northeast Bay of Bengal. As per the alert issued at 4 pm on Sunday, heavy rain accompanied by lightning and gusty winds will lash isolated places of Thiruvananthapuram, Kollam, Pathanamthitta, Alappuzha, Kottayam, Idukki and Ernakulam districts by 7 pm.
Yellow alert in districts
September 3 -Thiruvananthapuram, Kollam, Alappuzha
September 4 - Alappuzha, Ernakulam
September 5 -Pathanamthitta, Alappuzha, Kottayam, Idukki
September 6 - Ernakulam, Idukki
September 7 - Alappuzha, Ernakulam, Thrissur,
Malappuram, Kozhikode, Kannur
---
3.30 PM: Monson Mavunkal cheating case: Crime Branch to interrogate former DIG Surendran's wife
The crime branch will question former DIG S Surendran's wife Bindulekha in the antiquities fraud case. The crime branch issued a notice to Bindulekha asking her to appear for questioning at the Kochi office on Friday. Surendran is the fourth accused in the case.
---
2.30 PM: Kerala rain update: A cyclonic circulation has formed over the northeast Bay of Bengal. According to the India Meteorological Department, a low pressure is likely to intensify over northwest Bay of Bengal and central west Bay of Bengal during the next 48 hours. Moderate/moderate rainfall is likely to continue in Kerala for the next 5 days. The IMD has informed that there is a possibility of heavy rain at isolated places from September 3 to 7.
---
1.30 PM: After 100 sovereign gold, Lord Krishna's next birthday gift is ready for Janmashtami
A golden crown is ready to be presented to Guruvayoorappan on Wednesday, September 6, the day of Janmashtami in Kerala. A devotee named K V Rajesh Acharya of the Thrissur Kainur Tharavadu, a goldsmith in Coimbatore will present the golden crown to Lord Krishna as a birthday gift. The golden crown weighs 38 sovereigns. On the Chathayam day after Onam, Guruvayoorappan received a golden pitcher (kindi) weighing 100 sovereigns worth Rs 49,50,000. The offering was made by Radhakrishnan of the TVS group.
---
12.45 PM: Woman found hanging at home in Thiruvananthapuram; husband in police custody
A woman identified as Naufiya (27) was found hanging at her home in Pothencode, Thiruvananthapuram. Raheez Khan, her husband, was arrested by the police as a result of the allegation made by the deceased's brother Naufal. The police have launched an investigation.
---
11.45 AM: Woman suffers injuries after being hacked by friend in Kannur
A Kannur man hacked a woman on Sunday morning leaving her severely injured. The victim Sabira (45) is an Edakkad resident. Sabira was seriously injured and admitted to a private hospital in Kannur. Around 6.30 a.m. on Sunday, Sabira's friend Fairooz, a resident of Koothuparamba, attacked her. He has reportedly gone into hiding.
---
10.30 AM: Three men arrested for misbehaving with woman inside train in Kannur
Three men were nabbed by the railway police for allegedly misbehaving with a woman inside the Nagercoil-Mangaluru Central Ernad Express (16606) on Saturday. The incident happened in Valapattanam at around 2.45 pm. The accused have been identified as Mattool South natives T Fayaz (26), Muhammad Shafi (36) and C Abdul Vahid (35).
---
9.45 AM: Five-member gang assaults SI during patrolling in Kasaragod
A cop was beaten by a five-member gang in Kasaragod during patrolling on Sunday morning. The gang assaulted SI Anoop and fractured his right arm. The SI has identified two people who beat him up.
---
9.15 AM: Kerala Governor, CM congratulates ISRO on successful launch of Aditya-L1
Kerala Governor Arif Mohammed Khan and Chief Minister Pinarayi Vijayan on Saturday congratulated ISRO and the scientists on the successful launch of Aditya-L1, India's first solar mission. "Hearty congratulations to team @isro on the successful launch of India's first solar mission, #AdityaL1 from Satish Dhawan Space Centre, Sriharikota. The launch affirms India's rising capability in Space Science," Khan posted on X (formerly known as Twitter). 
"India marks another momentous achievement in space research as #AdityaL1 sets off on its mission to explore the secrets of the Sun and its atmosphere. Hats off to @isro and the incredible team that made this possible. Together, we reach for the stars!," CM Vijayan posted on X, formerly Twitter.
---
9.00 AM: Week-long Onam celebrations conclude in Thiruvananthapuram with much zeal
The Kerala Tourism Department's weeklong Onam celebrations came to an end on Saturday with a vibrant cultural spectacle in the state capital. According to Kerala Tourism Minister P A Mohamed Riyas, the government has planned a project to develop the historic Kanakakunnu Palace that will cost Rs 6 crore. The project will involve the construction of a museum and an auditorium at Kanakakunnu, according to Riyas, who made the announcement during the closing ceremony of the festivities at Nishagandhi Auditorium. Srimulam Thirunal, the former king of Travancore, was in power from 1885 to 1924, when the Kanakakunnu Palace was constructed.
---
8.30 AM: Aranmula boat race: Edasserimala, Edakkulam snake boats clinch trophies
On Saturday, Pampa's Aranmula hosted the yearly Uthrattathi Vallamkali snake boat race with the usual zeal and joy. The Edasserimala and Edakkulam villages' snake boats, or palliyodams, took home the Mannam trophies for the "A" and "B" categories, respectively. The Devaswom Board's trophy and monetary prize were also awarded to the victors.
---
8.20 AM: Puthuppally bypoll: Public campaigning to end today at 6 pm
Puthuppally's high-stakes election campaign will end at 6 p.m. on Sunday. The byelection will be held on September 5 (Tuesday). All campaigning and election-related activities on Monday will be suspended during the pre-election silent period. The Communist Party of India (Marxist), the Indian National Congress (INC), and the Bhartiya Janata Party (BJP) will all assemble in Pampady in the evening with roadshows, bringing the campaigning to an excited pitch on Sunday.
---
8.12 AM: Heavy rain to lash Kerala; Yellow alert in three districts
Kerala will receive heavy rainfall in the coming days. Meanwhile, the IMD has sounded a yellow alert in Thiruvananthapuram, Kollam and Alappuzha districts today. The existence of cyclonic circulations over the Bay of Bengal, the potential for the creation of cyclonic circulation over the North Bay of Bengal, the persistence of cyclonic circulation over the Comorin area, and another over the north interior of Tamil Nadu have all been cited as causes for the increased rainfall.
Last Updated Sep 4, 2023, 7:53 AM IST