JDS slams Karnataka government over land use and power sourcing during Mekedatu yatra
Former CM HD Kumaraswamy implies irregularities in land use and power sourcing during the Mekedatu yatra without naming individuals. He hints at Deputy CM Shivakumar's involvement in Lulu Mall's alleged encroachment, planning to release evidence. Kumaraswamy questions high-tension wire arrangements, expenses, and lake encroachments, calling for transparent investigations.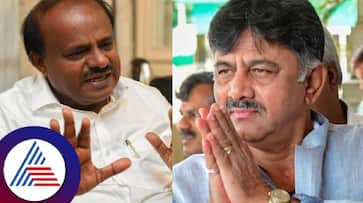 Former Chief Minister HD Kumaraswamy has taken a direct stance against the government, insinuating significant irregularities in land use and power sourcing during the Mekedatu yatra, without explicitly mentioning names. He declared his intent to disclose crucial documents pertaining to the alleged 24-acre wasteland utilized for constructing the Lulu Mall near Majestic, Bangalore. This move indirectly targeted Deputy Chief Minister D.K. Shivakumar, who oversaw the mall's construction.
Speaking to reporters at the JDS office, Kumaraswamy questioned the conspicuous silence of Congress members regarding the Lulu Mall, which reportedly encroached upon the 24-acre derelict land. He emphasized the need for scrutiny, pondering if different laws applied to him and to those behind the mall's construction.

Former Karnataka CM HD Kumaraswamy settles electricity theft allegations, questions exorbitant fine by BESCOM
Highlighting the history of the land dating back to its allocation to Minerva Mill in 1934, Kumaraswamy alleged foul play, citing the apparent destruction of related documentation. He asserted plans to release supporting records to substantiate claims of the mall's illegal construction, questioning the arrangements made for the mall's construction over high-tension wires and raising doubts about the associated costs.
Kumaraswamy further questioned the motives behind actions taken during the Mekedatu yatra, casting aspersions on the electricity sourcing for the event and the expenses incurred, challenging the credibility of the involved individuals' intentions.

HD Kumaraswamy takes swipe at DyCM Shivakumar's vision for Greater Bengaluru
Shifting focus, Kumaraswamy indirectly critiqued Agriculture Minister Cheluvarayaswamy regarding alleged encroachments on the Makali lake. He raised concerns about the scrutiny applied to his own property versus the lack thereof concerning the lake, insinuating a double standard in investigations.
During a press conference, Kumaraswamy's statements underscored his scepticism and scepticism towards certain government actions, pointing towards potential irregularities and calling for transparent investigations into these matters.
Last Updated Nov 18, 2023, 2:52 PM IST