HD Kumaraswamy takes swipe at DyCM Shivakumar's vision for Greater Bengaluru
Former CM Kumaraswamy opposes DCM Shivakumar's Greater Bengaluru plan, emphasizing the need for practical infrastructure over expansion. He critiques the focus on renaming areas, advocating for genuine development, dismissing concerns about phone tapping as commonplace.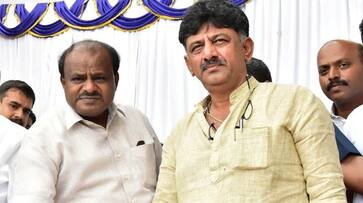 In a recent statement, former Chief Minister HD Kumaraswamy expressed strong opposition to Deputy Chief Minister DK Shivakumar's proposals for the development of the Greater Bengaluru area. Kumaraswamy's remarks came as a response to Shivakumar's suggestions regarding the inclusion of Bidadi in Greater Bangalore and the overall vision for the city's expansion.
"Let him do whatever he wants with Greater Bengaluru. Aren't we looking at Bengaluru now?" retorted Kumaraswamy, questioning Shivakumar's understanding of the consequences faced by Bengaluru during heavy rains. He referenced past instances where the city struggled significantly during rainfall, and stressed the need for practical infrastructure and preparation in the face of such challenges.

Karnataka DyCM DK Shivakumar announces extension of Namma metro until Bidadi
Referring to the idea of renaming Ramanagara as Delhi or Dubai, Kumaraswamy added, "Changing the name won't help anyone. What's crucial is the development and infrastructure provided to attract people." He criticized the superficial focus on nomenclature, highlighting the necessity for substantial infrastructural improvements instead of mere name changes.
Kumaraswamy dismissed the notion of tapping his phone, asserting that such occurrences are common at the officials' level in various governments. He expressed indifference, stating, "What is the use of wiretapping? If it's convenient for them, let them do it."

Bengaluru's ambitious Skydeck project aims to soar as India's tallest viewing tower (WATCH)

In response to DKS's statements related to the renaming of Ramanagara, Kumaraswamy conveyed scepticism about the intentions behind such statements, suggesting that they might be made merely for attention-seeking purposes rather than genuine efforts toward public welfare.
Last Updated Nov 11, 2023, 11:42 AM IST