Israel-Palestine War: Family from Kerala recounts ordeal; seeks urgent medical help
A Kerala family stuck in Israel recounted its ordeal in the war-torn country. The couple from Thiruvananthapuram flew to Israel last month to be with their daughter who is pursuing PhD at Bar Ilan University.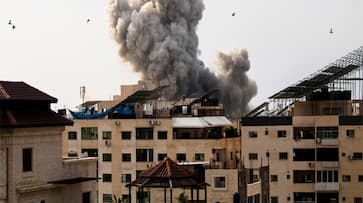 Thiruvananthapuram: A family from Kerala is experiencing an unusual combination of tension and relief. Usha Devi (59) and Vijayakumar (64), natives of Thiruvananthapuram, flew to Israel last month to be with their daughter who is now stuck in Israel. Their daughter Anagha is currently pursuing PhD at Bar Ilan University, Tel Aviv however, they are now stuck in a raging war following the aerial attacks launched by the Palestinian militant groups on Saturday (Oct 7). 
Vijayakumar, who has high blood pressure and a prostate issue, went to the store for medication on Monday with the help of his wife and Anagha's classmate Manoj Shanmugasundaram. He told the media outlet Times of India (TOI) over the phone, "We were at a bus stop when sirens went off."
"There was nobody there and we waited in the corridor for a while before going back to the University where we were living with our daughter," said Usha as quoted by TOI.
 "The university gates were also closed, and the security personnel had moved into the bomb shelter. We called security and waited outside. We could hear explosions. Those were some tense moments," they recalled the ordeal.
On Sunday, the couple was slated to fly back to India. They were stuck in Israel as a result of Air India's flight cancellations.
"Here the roads are empty. We have seen such attacks on television, this is the first time we have seen it in real life. Our daughter is breaking down thinking about our safety," Usha Rani told TOI.
Vijayakumar stated that he is in urgent need of medicines. He said, "Here, unlike in India, it is challenging to obtain medications. Since they were themselves in bunkers, the Indian embassy's response when I contacted them was unsatisfactory. It would be good to acquire my medications from an Indian association in Israel."
Israeli Prime Minister Benjamin Netanyahu on Tuesday made it clear that his country will finish the war that was forced upon it by the Palestinian terrorist group Hamas. Making a strong video statement, Netanyahu said, 'Israel is at war. We didn't want this war. It was forced upon us in the most brutal and savage way. But though Israel didn't start this war, Israel will finish it.'
The Hamas terrorists, who control the Gaza Strip, blasted tens of thousands of missiles and deployed soldiers across the border on Saturday morning in an unprecedented assault that was reminiscent of Israel's 1948 War of Independence.
Last Updated Oct 10, 2023, 9:23 AM IST