Indian troops need to leave Maldives, says Island nation's President-elect Mohamed Muizzu
Maldives' President-elect, Mohamed Muizzu, plans to assert full independence by requesting the withdrawal of Indian troops stationed in the country, amid growing influence competition between India and China in the region. Negotiations with India to remove military personnel have already begun, with a focus on mutually beneficial bilateral relations.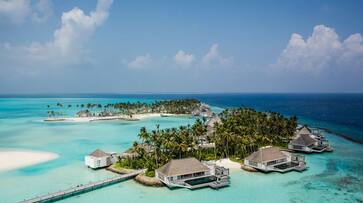 In the picturesque setting of the Maldives, a political tussle has emerged with geopolitical implications, as President-elect Mohamed Muizzu announces his intention to reclaim full independence for the island nation by requesting the departure of Indian troops stationed within its borders. This decision comes at a time when both New Delhi and Beijing are actively seeking to extend their influence throughout the region.
Muizzu's electoral campaign was marked by accusations against the outgoing President, Ibrahim Solih, whom he claimed had allowed India undue sway over the Maldives and had, in doing so, compromised the nation's sovereignty by hosting Indian military forces. In an interview with Bloomberg TV, Muizzu emphasized the significance of maintaining complete autonomy and highlighted that the removal of foreign military presence was not limited to India alone but extended to any external power.
Approximately 70 Indian military personnel operate radar stations, surveillance aircraft, and warships, actively contributing to the defence and security of the Maldives. Muizzu has disclosed that discussions with the Indian government regarding the phased withdrawal of these troops have already begun and are showing promising progress.
The President-elect is adamant that any such move should not be interpreted as a willingness to invite military forces from other nations, including China, into the Maldives. This stance underscores the delicate balance of power in the Indian Ocean region, where China and India have been vying for influence. The Maldives, known for its pristine beaches and climate change vulnerabilities, is of strategic importance, situated along key Indian Ocean shipping routes.
This development has wider implications in the context of the United States and its allies, such as Japan and Australia, who are actively seeking to counter China's growing influence in the region. Muizzu's predecessor, Solih, had leaned towards strengthening ties with India, aligning with the US-led strategy to counterbalance China.
Muizzu's approach, as he prepares to take office, is to promote cooperation and assistance from all nations. He asserts that the recent elections were not a referendum on aligning more closely with either China or India. The 45-year-old leader, who previously served as Mayor of the capital city Male and as Housing Minister, is also known for overseeing a crackdown on dissent during his party's previous tenure, which welcomed Chinese loans and investments.
The international community is closely watching these developments, as the Maldives finds itself at the crossroads of competing interests in the Indian Ocean. India has expressed its intention to work constructively with the incoming Maldivian administration, highlighting its history of providing humanitarian assistance to the nation.
The future trajectory of the Maldives' foreign policy remains uncertain, but Muizzu is resolute in prioritizing the interests of his nation above all else, emphasizing the need to maintain their sovereignty in the face of a complex geopolitical rivalry between major powers. As he prepares to take office on November 15, Muizzu's vision is clear: "Maldives first."
Last Updated Oct 27, 2023, 1:29 PM IST