9 dead in apartment complex godown fire in Hyderabad's Nampally
Nine people have died in a fire at a godown located in an apartment complex in Bazarghat, Nampally of Hyderabad. Meanwhile, upon receiving the information, fire tenders were rushed to the spot and the blaze was brought under control.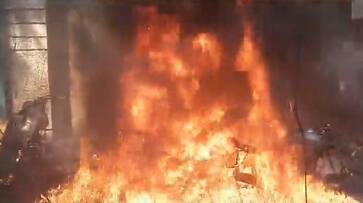 At least nine people died in a massive fire at a residential building in Hyderabad's Nampally on Monday. Three others were injured in the incident and were shifted to hospitals. Greater Hyderabad Municipal Corporation (GHMC) and National Disaster Response Force (NDRF) teams were called in for rescue operation.
So far, 21 people have been rescued, with 10 of them taken out from the building in an unconscious state.  The ground floor, where chemicals were stored, was where the fire began, and it quickly spread to other floors. According to the preliminary analysis, a spark from an auto maintenance started the fire.
Most of the victims were staying on the first and second floors as tenants. The people living on the third and fourth floors sustained minor injuries. 
Also Read | Agra: 25-year-old homestay employee alleges gang-rape, forced to consume alcohol; 5 arrested
"The repair work of a car was going on in the godown on the ground floor. The sparks spread to the chemical barrel kept in the godown and caused the fire. Within no time, the fire engulfed other floors of the building," DCP Venkateshwar Rao, Central Zone, Hyderabad said.
An eyewitness said that the chemicals caught fire. The cause of the fire and the extent of damage are yet to be officially ascertained. The building owner has been identified as Ramesh Jaiswal and is currently on the run. He was using the ground floor as a godown for oil drums and cans.
Meanwhile, Union Minister G Kishan Reddy paid a visit to the fire site. Earlier today, another fire broke out at a shop near Lalitha Hospital in Kothapet in Hyderabad. No casualties were reported in the incident. Emergency responders swiftly dispatched six fire tenders and 30 firefighting personnel to the scene, successfully extinguishing the flames.
Also Read | Bengaluru: Speeding car rams into bikes in traffic, video goes viral (WATCH)
Last Updated Nov 13, 2023, 1:42 PM IST