Headmaster opens school for classes in COVID-19 hotspot amidst coronavirus pandemic
A school reopened in one of the COVID-19 hotspots. Everyone was surprised by the decision of the school headmaster. The incident is being investigated thoroughly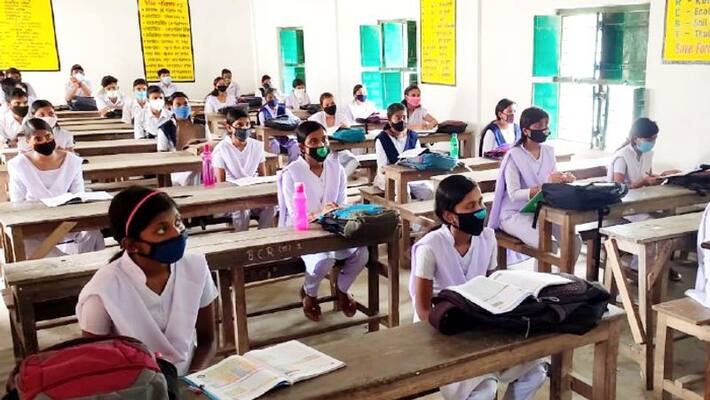 Medinipur: The Central government and the state have not yet decided when schools, colleges, and universities will reopen. The Ministry of Human Resource Development, Department of Higher Education are working very hard to decide when schools can be opened for students. In the meantime, the headmaster of a high school in Ghatal sub-division Daspur Police Station limits opened the educational facility to start classes.
The incident has caused major chaos in the entire state. West Midnapore District Education Department and Ghatal subdivision administration are investigating the incident. Daspur Police said that the incident is being investigated thoroughly.
The incident took place on Wednesday at Hat Sarberia Bidhan Chandra Roy High School in Daspur-1 block of West Midnapore. The students were forced to sit in the classroom and undergo classes. However, the school authority said that the students were made to follow social distancing during classes. Every student was made to sit at a considerable distance from each other. But the question is, how can a headmaster do this as it is in violation of government rules and regulations?
The headmaster of the school, Vrindavan Ghatak, said, "Requests have been coming from students and parents for some time now asking If classes for at least Grade 10 students can be started. So, we were experimenting on this day, keeping distance and taking all kinds of precautions. He said 50 out of 150 secondary (Grade 6 and above) students came. Teachers have taught them. I don't see any injustice in this."
"Although the question is, can this experiment be done at the risk of children's lives?" asked the state leader of Trinamool Education Cell Sujit Banerjee. He added, "When the whole country, the state, the UGC, all the academic institutions are thinking about the issue, why did he want to take the burden of the examination into his own hands?" It is a risky job. The administration should take appropriate action.
Ghatal sub-divisional governor Asim Pal said, "Is education more expensive than life? Who will be responsible if something happens to the students? We are investigating the matter. Action will be taken if necessary." District school inspector Chapeshwar Sardar said, "We have not been informed about the incident. The school has been ordered to close after learning of the occurrence. Necessary steps will be taken to find out why such a decision was taken."
"The fact is that Daspur has become one of the Covid-19 hotspots in the district. Several symptomatic patients have also died in Daspur. Despite the situation, it is being investigated how he did this, while the epidemic law is in force," said Sudip Ghoshal, the officer-in-charge of Daspur Police station.
 
Last Updated Aug 13, 2020, 2:46 PM IST