Hampers with Indian Constitution, commemorative coin, stamp and more await MPs in new Parliament - WATCH
The article discusses the transition of parliamentarians to a new Parliament building, marking the end of an era in the historic old building and detailing the unique hamper they will receive as they move.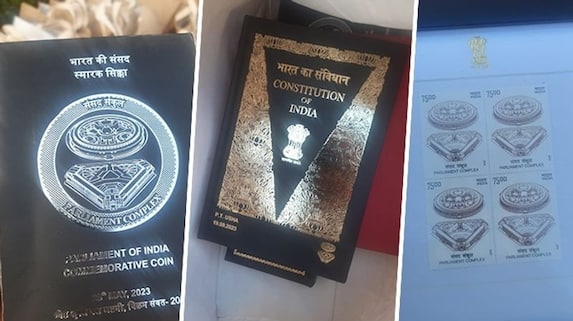 On Tuesday, parliamentarians will be greeted with a special hamper as they transition to the new Parliament building. The special session commenced on Monday in the old premises and is set to relocate to the revamped complex tomorrow. The hamper itself is a thoughtful gesture, consisting of a jute bag containing a copy of the Constitution, a commemorative stamp, and a special coin. Notably, the names of the Members of Parliament (MPs) are inscribed on these jute bags.
Also read: Explained: When MPs move to new Parliament, what happens to the old building?
"Special Gift bag containing the constitution of India, commemorative coin and stamp and booklet on New Parliament will be given to MPs tomorrow on the opening day in the New Parliament Building," read a post by the Ministry of Information and Broadcasting on X, formerly known as Twitter.
The transition to the new Parliament building is a significant moment in the history of India's legislative process. The old building, completed in 1927 and now 96 years old, holds a wealth of historical significance, having witnessed pivotal events, including the adoption of the Constitution. Over time, it became evident that the old building no longer met the contemporary requirements of India's evolving democracy.
On Monday, Prime Minister Narendra Modi delivered a heartfelt tribute to the old building in his address to the Lok Sabha. He paid homage to "every brick" of the historic structure and expressed his belief that MPs would enter the new building with a sense of "new hope and confidence."
The new Parliament building, inaugurated by Prime Minister Modi this May, marks a significant milestone in India's legislative history. This modern complex boasts impressive features, including the ability to comfortably accommodate 888 members in the Lok Sabha chamber, 300 in the Rajya Sabha chamber, and a staggering 1,280 MPs for a joint session of both Houses in the Lok Sabha chamber.
Also read: New Parliament boasts automated mic system amid mic-muting controversies: Report
This state-of-the-art triangular-shaped four-storeyed building spans a built-up area of 64,500 square meters. It is equipped with three primary gates - Gyan Dwar, Shakti Dwar, and Karma Dwar - each serving distinct purposes, with separate entrances dedicated to VIPs, MPs, and visitors.
Last Updated Sep 18, 2023, 9:33 PM IST