'Waiting for the Thank You...' EAM S Jaishankar on India softening oil and gas markets (WATCH)
External Affairs Minister S Jaishankar highlighted on Wednesday that India's strategic approach to purchasing oil amid the Russia-Ukraine conflict has played a crucial role in softening global oil and gas markets, contributing to the management of global inflation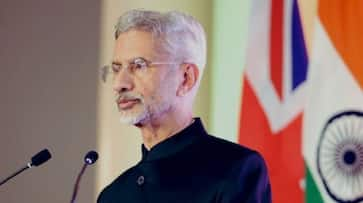 External Affairs Minister S Jaishankar has emphasized that India's strategic approach to oil purchases amid the Russia-Ukraine war has significantly influenced global oil and gas markets, thereby contributing to the management of global inflation. While Western nations imposed sanctions on Russia's oil exports due to the conflict in Ukraine, India's refiners have taken advantage of discounted Russian oil. During a conversation in London, Jaishankar pointed out that India's purchase policies have played a crucial role in softening both oil and gas markets, ultimately contributing to the global effort to manage inflation. He humorously added, "I'm waiting for the thank you."
The minister highlighted the strategic significance of India's oil purchase approach, explaining that it has prevented a potential surge in global oil prices. This, in turn, safeguards India's position in the international market, especially against European competition. 
According to Jaishankar, had India entered the same market as Europe for oil purchases, it would have faced higher prices, as Europe would have outpriced India.
Jaishankar drew attention to the LNG markets, where supplies traditionally destined for Asia were diverted to Europe. He noted that even India, being a significant player, faced challenges, but smaller countries struggled to secure responses to their tenders in Paris because LNG suppliers were no longer interested in dealing with them.
Concluding his five-day visit to the UK, Jaishankar spoke on a variety of topics during the event titled 'How a billion people see the world.' He touched on India's growth story, the complexities of relations with China, and the emergence of a "more authentic" India.
'Canada has not yet presented evidence yet'
In response to Canada's accusation regarding India's involvement in the killing of Khalistani Hardeep Singh Nijjar, Jaishankar stated that India is open to an investigation but urged Canada to provide evidence to substantiate its claims. Emphasizing the importance of evidence-sharing, Jaishankar asserted that India is willing to consider any information Canada might have but noted that such evidence has not been presented thus far.
Expressing concerns, Jaishankar highlighted the belief in India that Canadian politics has accommodated violent and extreme political opinions advocating separatism from India, often through violent means. He emphasized that individuals with such views are granted freedom within Canadian politics to express their opinions. However, he also stressed that freedom of speech and expression comes with responsibility, and the misuse of these freedoms, especially for political purposes, is highly inappropriate.
Jaishankar further pointed out that the accommodation of these views in Canadian politics has led to attacks on Indian diplomats, including the High Commission. He mentioned instances of smoke bombs thrown at the High Commission and intimidation of consul generals and other diplomats. Notably, he expressed disappointment that no action has been taken against those responsible for such incidents despite the known facts. Jaishankar underscored the historical context of such challenges in the bilateral relationship between the two countries.
Last Updated Nov 16, 2023, 9:10 AM IST