Chitradurga Murugha Mutt Shivamurthy Swamiji arrested again in 2nd POCSO case
Shivamurthy Murugha Sharan, linked to Chitradurga's Muruga Mutt, faces another POCSO case, leading to his arrest after earlier bail. Police apprehend him from Davangere, conduct medical tests, and plan court appearance. Concerns arise over bail compliance, pushing for Swamiji's relocation for privacy and away from public reach.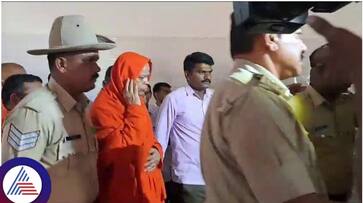 Shivamurthy Murugha Sharan, the religious leader associated with Chitradurga's Muruga Mutt, has been apprehended by the police in connection with a second POCSO (Protection of Children from Sexual Offences) case and taken into custody. This arrest follows his earlier release on bail from jail after facing charges in a previous POCSO case.
The spiritual leader had previously served a 14-month term in jail following allegations of sexually assaulting minor girls from the Math's residential school. He was subsequently released on bail by the High Court after the completion of this tenure. However, a subsequent POCSO case emerged, and a body warrant was issued against Murugha Shri, compelling the authorities to act upon the complainant's plea for his arrest.

A woman dared to complain; she was tracked down, raped and murdered: Survivor on Karnataka seer
In response to the court's order issued by Chitradurga 2nd Additional District and Sessions Court Judge BK Komala, Inspector Mudduraja from Rural Police Station Poralees arrived at the Davangere Virakta Mutt, where Shivamurthy Muruga Sharan was residing, to carry out the arrest process. Over 25 policemen surrounded the area as Muruga Swamiji was apprehended and transported from Davangere to Chitradurga in a police vehicle.

Rape-accused Murugha Math seer subjected to medical tests in Chitradurga
Under the supervision of the Chitradurga DySP, the police team took custody of Muruga Swamiji and proceeded to conduct a medical examination at the district hospital in Chitradurga. Stringent security measures were implemented around the hospital premises. The Swamiji is expected to be presented before the court, and if remanded, the police will take him into judicial custody.
Despite being out on bail related to a previous POCSO case, allegations against Muruga Sharan persisted, prompting concerns about his compliance with the bail conditions. Chitradurga's lawyer, Madhukumar, raised objections, urging the authorities to relocate the Swamiji away from public access, emphasizing the need for private accommodation away from the vicinity of his current stay at the Virakta Mutt in Davangere.
Last Updated Nov 20, 2023, 5:23 PM IST